INEA • YOGA gives back – because community matters. We believe that retreats are for everyone. No matter what your level of asana practice. No matter what your status, age, colour, sexual orientation, food preference, religion, no matter what your financial situation – YOU ARE WELCOME! To support this idea, we offer one free spot for every retreat we run or host.
Yoga in our hearts is a practice of connecting, uniting, accepting. We therefore hold a safe space for everyone, for you to come close to your centre and perhaps to also come close to others.
Often participants' first question (before deciding to attend) is whether the level will suit them. Most yoga retreats, unless otherwise stated, are open to all levels. This does not mean that you will miss out on challenging flows if you are already an advanced asana practinioner. Equally, arriving as a beginner doesn't mean that you will not be able to follow the class. No matter where you are in regards to your practice, you are probably reading this for a reason. Make that decision, participate in a retreat and challenge your teacher by being really you… challenge yourself by staying in touch with exactly how you feel (and please give feedback). Dare to take this first step, or to put yourself next to beginners and see what you can learn from this new place.
Another consideration is arriving to a retreat on your own… most people come to retreats on their own. It's a perfect place to meet people that you already know you have something in common, perhaps the interest to connect, or the love for the practice, even the willingness to travel and explore. If you are lucky enough to already be surrounded by friends with the same interests, or you have a partner that shares the same passion as you, the passion for yoga and/or meditation, please feel free to invite them, we do our best to accommodate for friends and couples, also by offering special rates. However, you are most probably reading this on your own, in which case, please know that you are not alone. Our retreats offer enough activities for you to be busy and there are enough breaks to find some quiet (even if you choose to attend everything on the schedule). There are plenty of opportunities to find a relaxing space for yourself and the idyllic atmosphere to deeply connect with your true nature or to share this experience with other like-minded yogis. It doesn't matter how young/old you are, how educated, how easily you cry, what food you choose to eat, or if you are married, it really doesn't matter what colour your skin is, who you pray to, or how much money you made last year.
Well, I say money doesn't matter, it kind of does! if you already are a millionaire, please don't apply for the free position. This position is to support fellow yogis, that want to try yoga in a retreat environment and never had the opportunity. We believe that going on a trip to surrender, enjoy, meditate, meet other cultures, connect… we believe that traveling for yourself and the things you love is a wonderful thing (to say the least!) and we want you to do it. We really do! So, if money is the issue, we can offer you (or another fellow yogi) one spot per retreat.
How to apply
All you need to do to win a free spot is connect with us! You can do this by writing a little note to explain the circumstances and to tell us a few words about yourself, your relationship with yoga, and if you are applying for yourself or another person. Please ensure that you state which retreat you are interested in and aim to apply for the free position 2 months in advance (at the very minimum). We have a raffle on the last day of each month and we announce the winner of the retreat starting 2 months later, eg to win a spot for the retreat focusing on new beginnings, starting on the 30th of April, you must send us your application via email by the end of February the latest.
We hope you are as excited about our community, as we are! We imagine that you feel already welcome and that you have nothing holding you back. We really look forward to sharing some yummy experiences with you, we look forward to connecting, spreading, and allowing… Thank you for reading and please don't hesitate to contact us if you have any questions or concerns.
Namaste
The INEA-YOGA team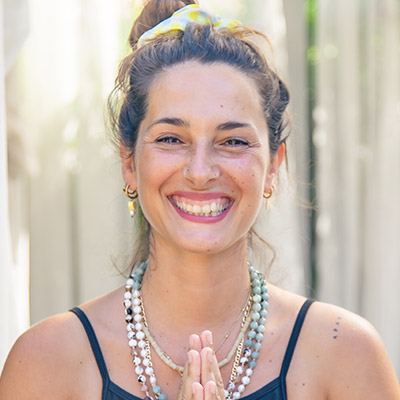 Athina Tamaresi
Head Teacher INEA • YOGA
Yoga to me has been a wonderful journey, helping me divide my sense of self from my often busy mind and deeply, truly accept and connect with me as a whole. I teach to support and encourage people to connect with themselves.
Athina's Profile