7 Days in Corfu, Greece • 12 Sep - 16 Sep, 2021
Re-Energize • Yoga Retreat
Book now
Nurishing • Revitalizing • Empowering
Connect to yourself and re-energise in Greece
We all often feel tired, low on energy, drained... It could be so many things that effect our moods, that drag us down. You can choose to stay feeling like: "this is not me", you can accept it and carrry on what you do with the same people you do... or you can take some space and think, come back to your senses or even start something completely new to help you figure out what in your life needs changing. We offer this yoga retreat as a way to help you find your balance again, take this step back or simply enjoy yourself for a week away from it all.
Come to gorgeous Corfu, in sunny and warm Greece to enjoy the Ionian sea breeze, to taste local food, to move your body, to listen to your soul, to chill on the wonderful sandy beach of St. George or Issos and reconnect with you! Come to Corfu to recharge your body and mind. Refuel your body with mindful movement, greek sunshine and local delights, and feel healthy and ready for the life that is waiting ahead.
No matter what your level of asana practice, you are welcome to come and enjoy yourself. We will provide you with everything you need in order to relax and immerse yourself in daily yoga classes, meditation, breathwork, mantra singing and more... surrounded by stunning sunsets, seaviews, chilling sessions in the "kipo" and, of course, plenty of gorgeous, healthy, freshly cooked, local vegetarian food. Athina's grandma is involved in this... it will be amazing!
Level of practise
Newby? Intermediate? You are at the right place!
It is all about the breath. As long as you can breathe, you can yoga. Take your time. Be present, practice mindfully and carry on being in the moment. The aim is to be using yoga and mindfulness to empower each individual to take a more active role in their self-care and postures isn't the only part of yoga… We use postures to get in the body, we don't use the body to get into postures… so no matter how advanced or beginner your posture/asana practice, you are perfect.
It is all part of a journey and we have all been at the beginning at some point. Please don't feel like you have to perform, you are coming to yoga to meet yourself… not show your flexibility skills, your strength of your muscles, but instead sharpen your ability to stay with yourself, accepting where you are right now and loving each and every clumsy move along the way.
Are you ready for this yummy experience with us? It is only a decision away. Let this trip be the beginning of a new routine with you in the centre.
Just come to breathe, relax, meet the sunshine and be happy.
Athina & Cedric
Highlights
– Daily Yoga Classes (Vinyasa & Yin)
– Daily Meditation Class
– Stand Up Paddling time
– Freshly cooked vegetarian food
– Sandy Beach
– Walk to Korission lake through the nature reserve forest of Issos Beach
– Boat trip (optional, extra fees apply)
Quick Info
– Instructions in English
– Additional Languages: Greek, German
– Airport Shuttle from CFU
– Beginners & Intermediate
Timetable
07:45-08:15 – Meditation (optional)
08:30-10:00 – Morning Yoga Class (Vinyasa)
10:00-11:00 – Brunch
16:30-18:00 – Workshops/Activities
18:00-19:30 – Gentle Yoga Class (Yin)
20:00-21:00 – Dinner
Whats included?
– All Yoga Classes & Meditations
– Brunch and Dinner
– Accomodation during Retreat Dates
– Optional offerings like Workshops, Sharing Circle, Mantra Singing
– Lots of sundshine and joy
– NOT included: private Sessions and Sound Treatment
Pictures
Imagine yourself just there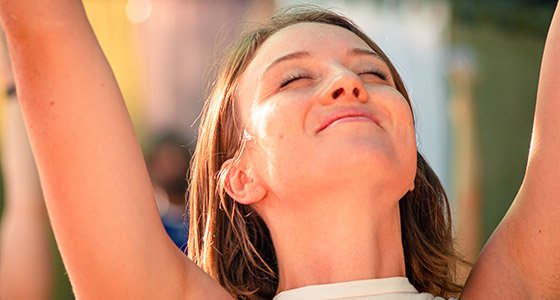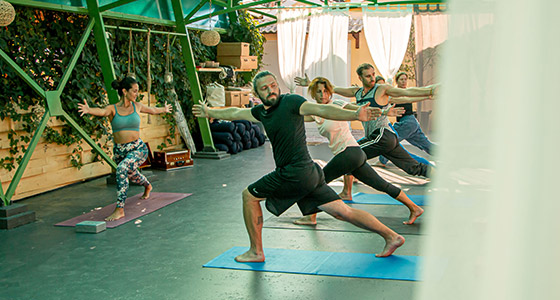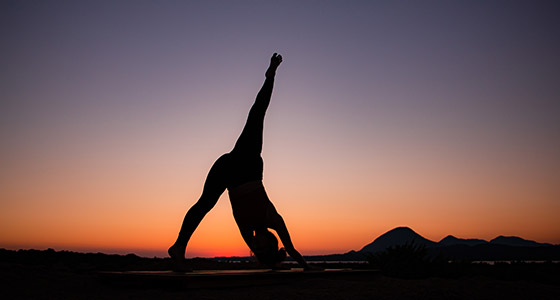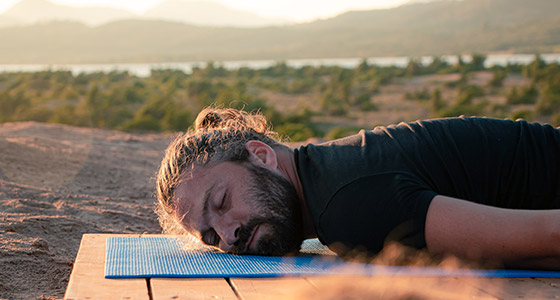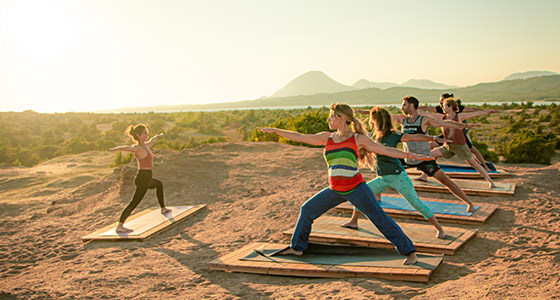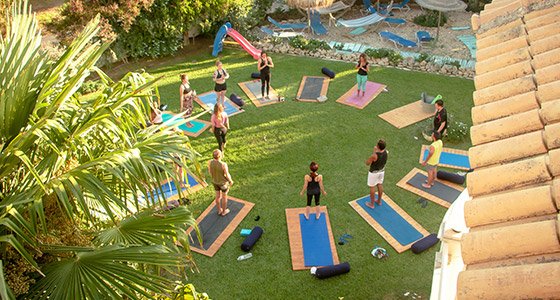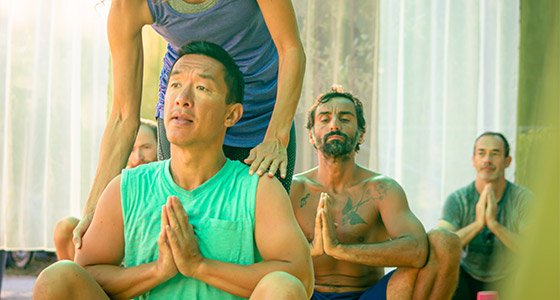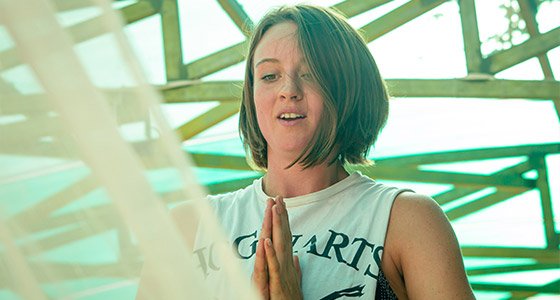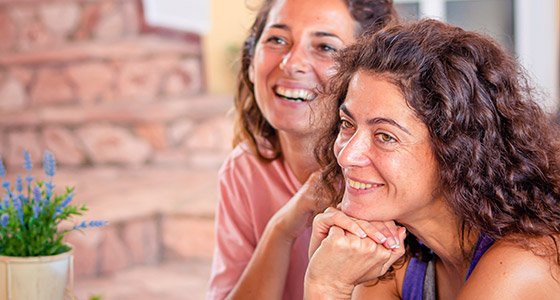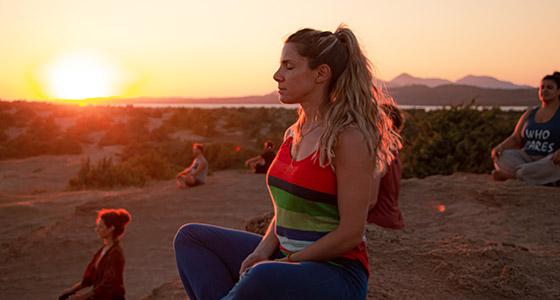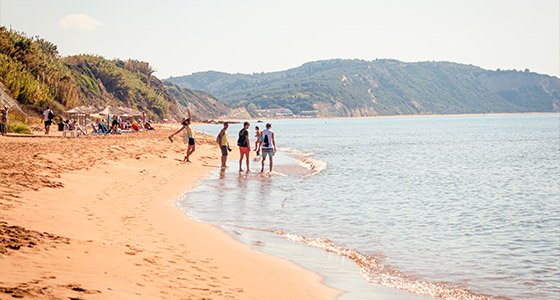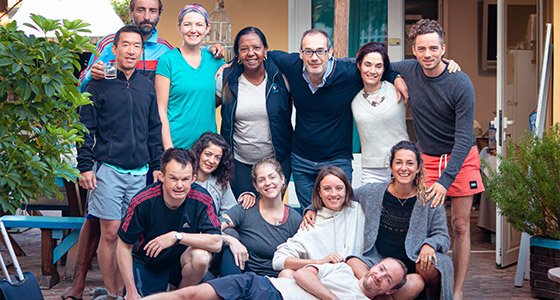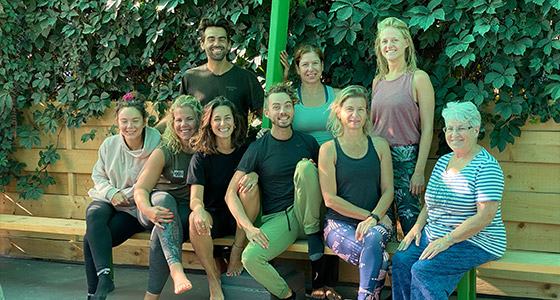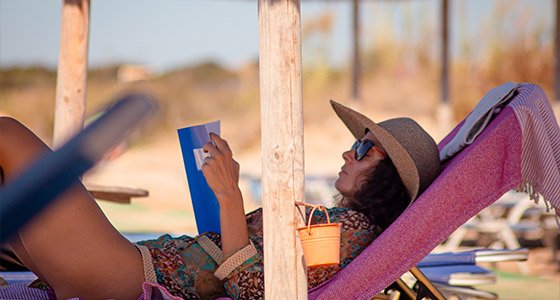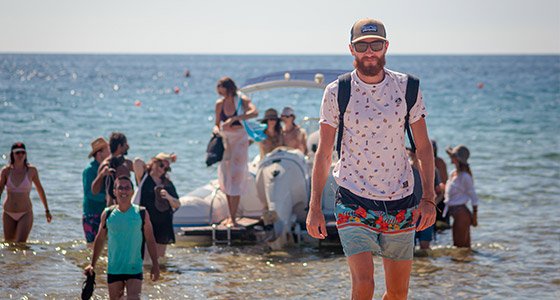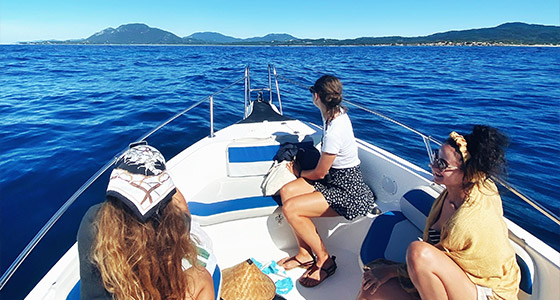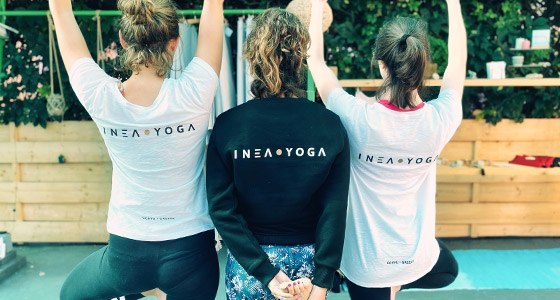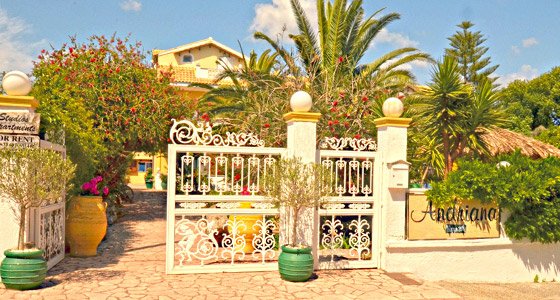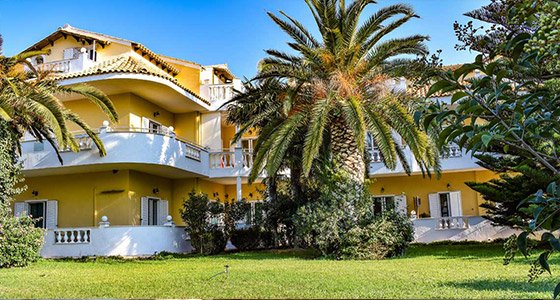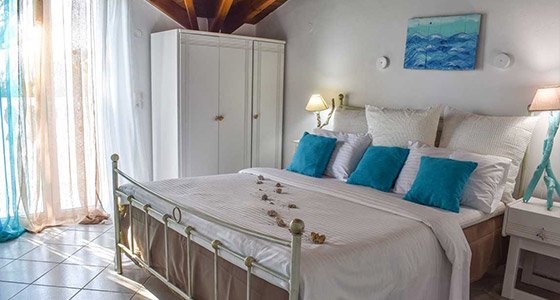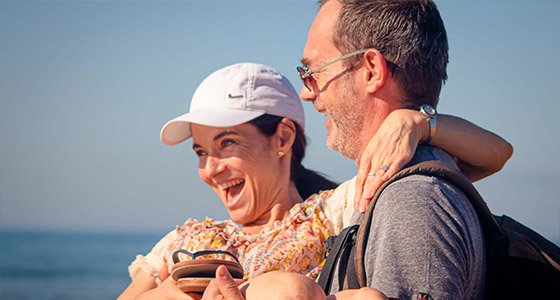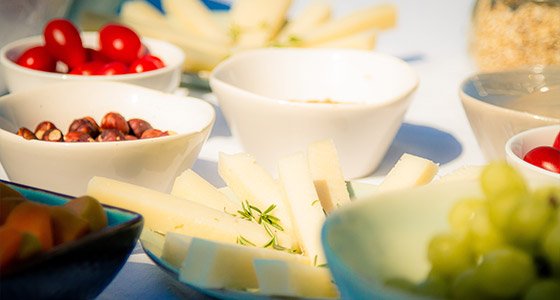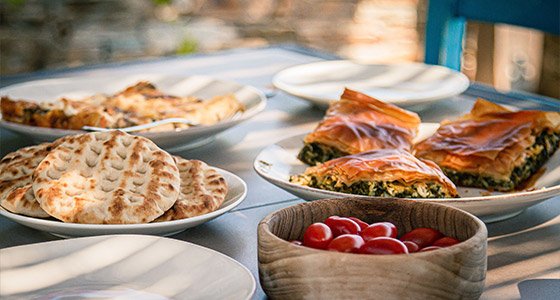 The food
Healthy food for healthy souls
Yummy and healthy is what a yogi needs. So we serve delicious vegi/vegan food all day long. Breakfast with typical greek specialities, as well as fresh fruits, nutrient seeds, local honey and our famous delicious nuts'n'fruits porridge bowls. For dinner we go to local tavernas, who cook especially for us. We enjoy traditional Greek food as well as international salads full of goodness to serve what our bodies need. Dishes are full of ingredients from local organic farming.
Vegetarian option

Vegan option
Gluten free
option
Workshops and Group Activities
Together we grow • Retreat experiences!

Workshop
Meditation & Mindfulness
Meditation and Mindfulness workshops are possibly the best hour you can give yourself! They are the kind of workshops that you won't need pen and paper for, you won't need to learn anything, perhaps the key principle here is to unlearn a few patterns and behavious. During those hours we focus around being present, we find little basic ideas that help practice mindfully and we accept change. In mindfulness workshops we don't force things, we allow them to happen. Breathe in and take a moment to feel the cold air touching your nostrils, pause there, breath out and notice how its quality has changed. How do you expect everything else in life not to change? Nothing is permanent so make sure you enjoy what's worth your enjoyment. Now is the time.

Workshop
Yoga Asana
It is beautiful when you find what feels good for your unique body. Yoga practice is not about getting bendy, it is about reuniting with yourself, using your body and mind, noticing their patterns, exploring their limitations and without judgment playing around with them. In Asana workshops we focus around a handful of postures and their alignment. Most practicioners, no matter how advanced, often wonder if they are accessing yoga postures properly... This is an opportunity to dive into foundation, key principles, aims and sensations of different asanas and searching for the most appropriate way to use those in order to connect better with ourselves. Join this workshop during your stay and experience your practice the best way your body needs.

Treatment
Sound Bath with Tibetan Singing Bowls
Sound treatments are here to help you release tension, work through blockages and connect with yourself in a deeper level. During these sound treatments the practitioner utilises the healing aspects of ancient Tibetan techniques and brings them to your body through vibrating singing bowls in the form of waves. The waves, as created by Tibetan and Crystal singing bowls, are played with clear intensions and directly from the heart. Sound is such a powerful media, as tradition has shown and modern research has come to support, especially when practitioner and patient/client are working towards the same goal or releasing, connecting, clearing, having left concepts and words outside the treatment room and allowing the vibrations to flow.
(Extra charge)

Workshop
Pranayama • Yogic Breathing
Breathing is the foundation of your life. Naturally breathing becomes the foundation of your yoga practice too. With each inhale you have the opportunity to create space and with every exhale you can allow your experience to deepen. Kapalabhati, Alternate Nostril Breathing and other exercises will become more accessible as time goes by and as you get familiar with paying attention to yourself. In these sessions we practice different breathing techniques, we explain how you can benefit from them, what the different steps are and we give ourselves time to try and modify them. Come join us for a whole session dedicated to breathing, or you can often get a glimpse of pranayama workshops by joining a meditation or even a yoga practice.

Get together
Mantra singing
What a wonderful way to reach a meditative state without worrying about your mind getting busy! Mantras help quiten the mind and stimulate the endocrine system in such a relaxed and joyful manner. And of course, there are plenty more reasons to sing mantras but this is not the time to bore you with making a list.
Have you tried it? Mantra singing is so much fun!!! Are you one of these people that lyrics isn't your thing? Well, if so then mantras are going to be your favourite kind of singing!!! You get a few commonly sanskrit phrases, with spiritual content and you have the opportunity to repeat these Indian jewels over and over, often at different tempos until everybody has got the words and the tune (but not that it actually matters). It is a chance to enjoy just being with everyone else around you, a wonderful way to connect with the rest of the group, a playful and gentle way to help you focus your attention. Let's play together.

Deepen your practise
Book a privat Session
Get the most out of your yoga practice. Whether you enjoy the benefits of regular home practice or you join classes once in a while, there is a way to get the most out of each session you give yourself. It is beautiful when you find what feels good for your unique body. Deepen your knowledge, understanding and sensations with creating a tailor-made class especially for you. Ask for what is it that matters most, try it out with one of our in-house yoga teachers and take with you a practice that suits your unique body and mindset, with a rhythm that serves your needs and the intensity and difficulty you wish for. We are here to support your experience.
(Extra charge)

Our Base
Welcome to corfu – raise your vibrations and open your heart.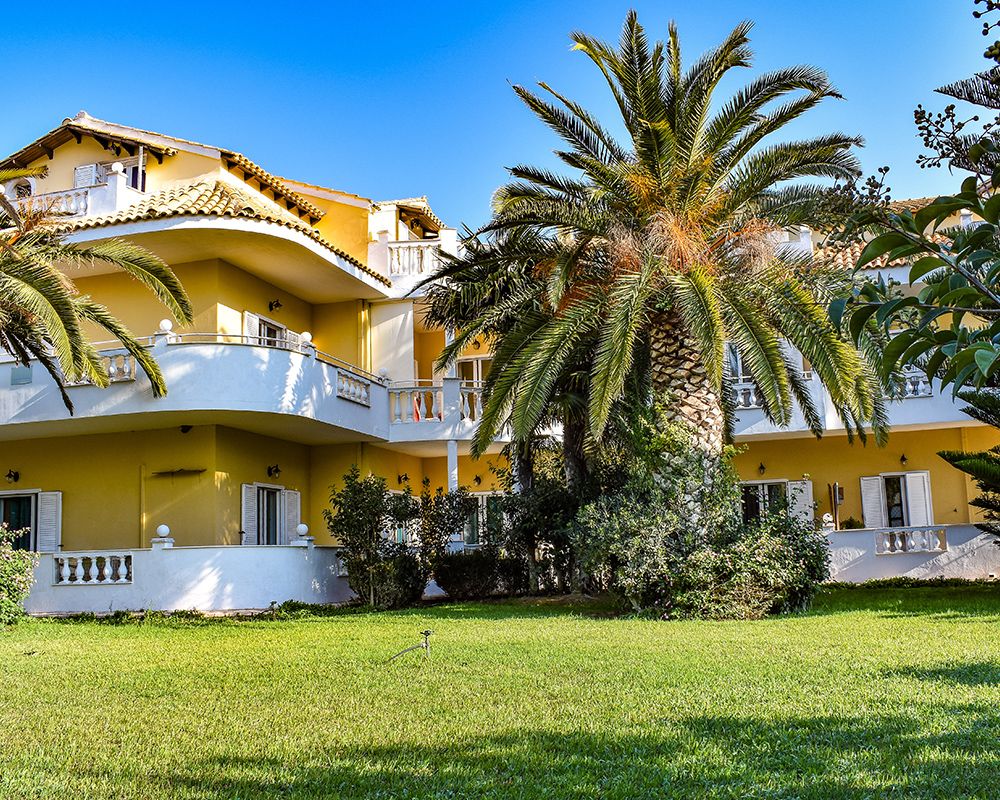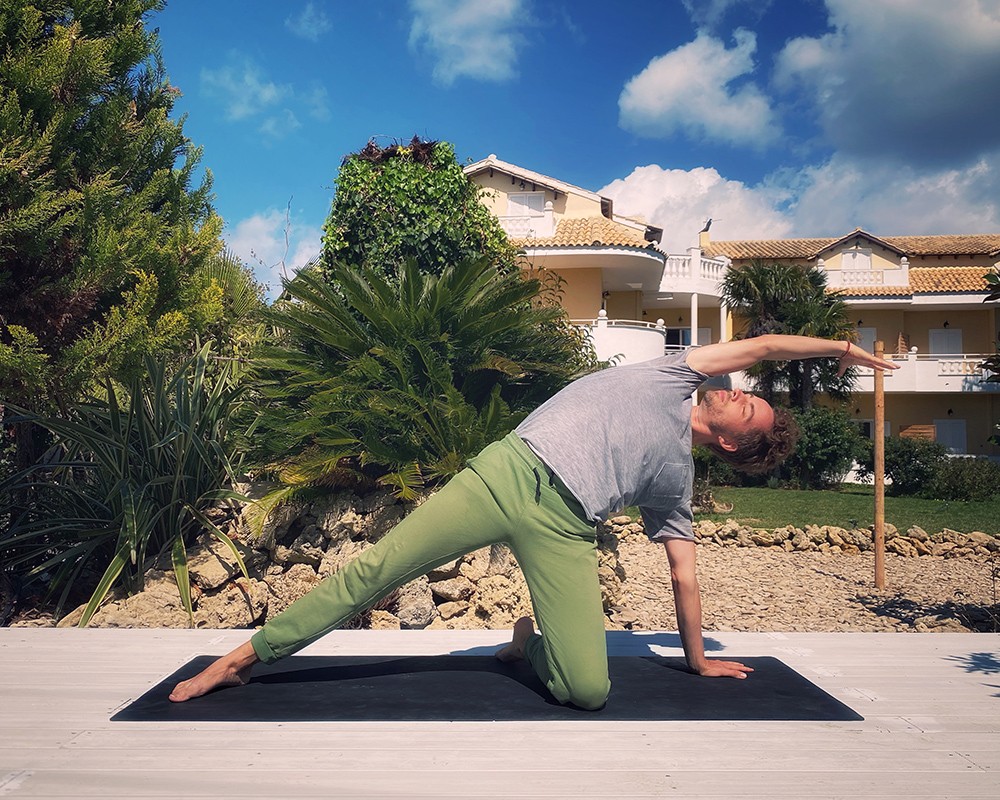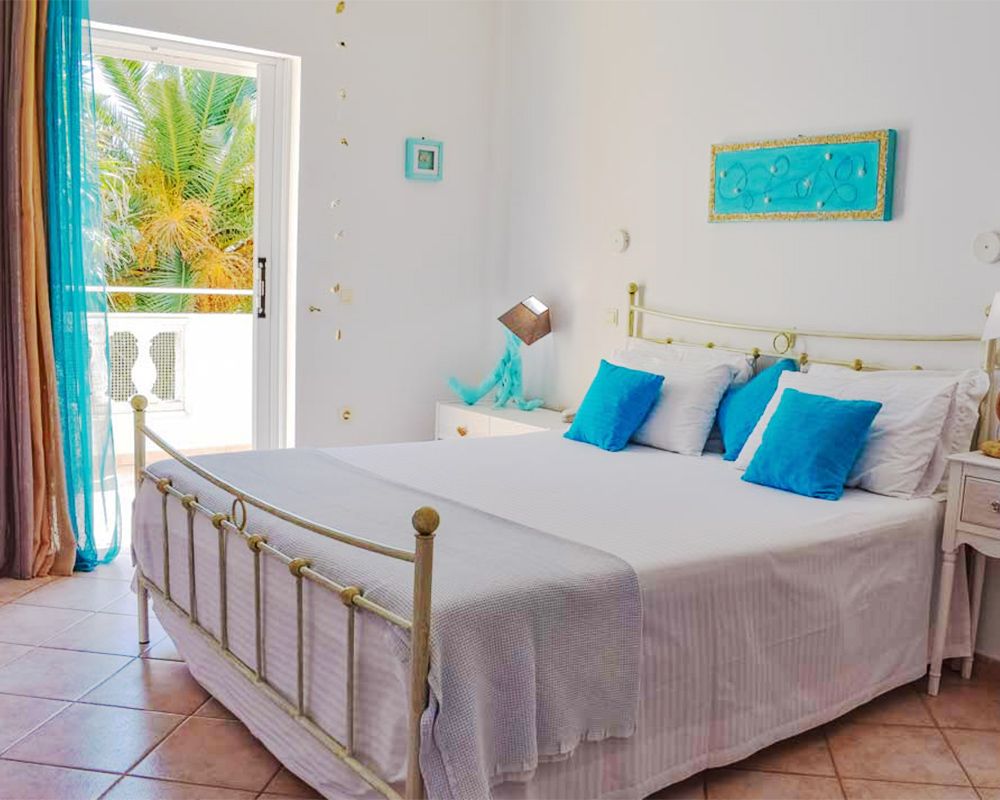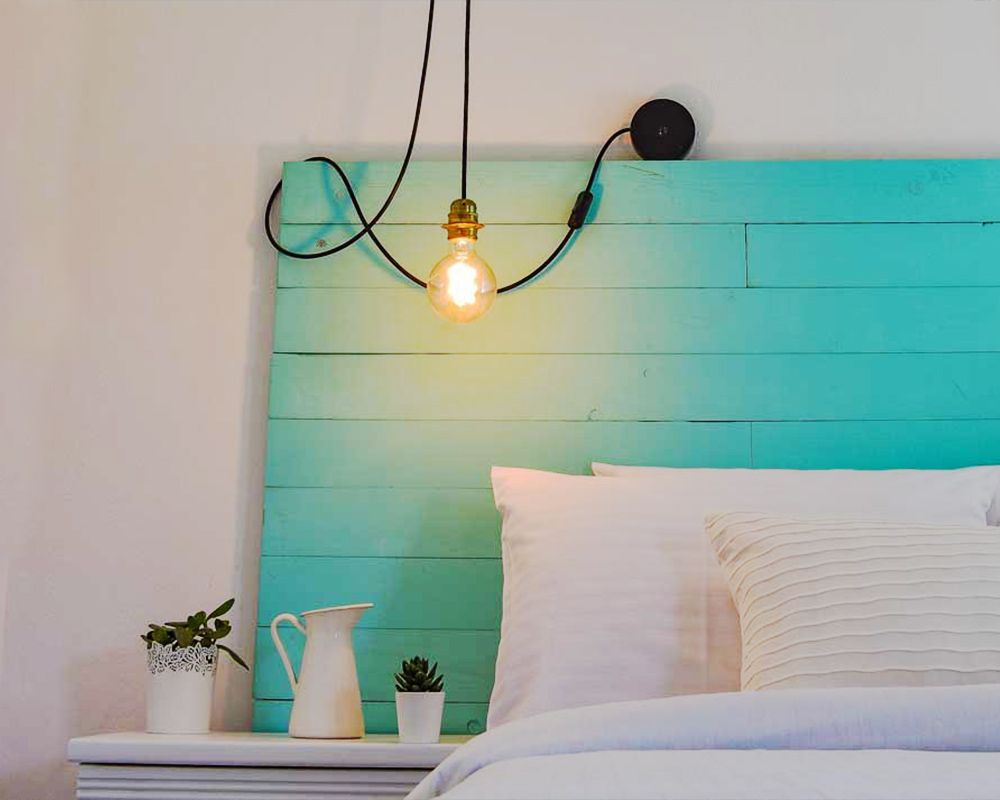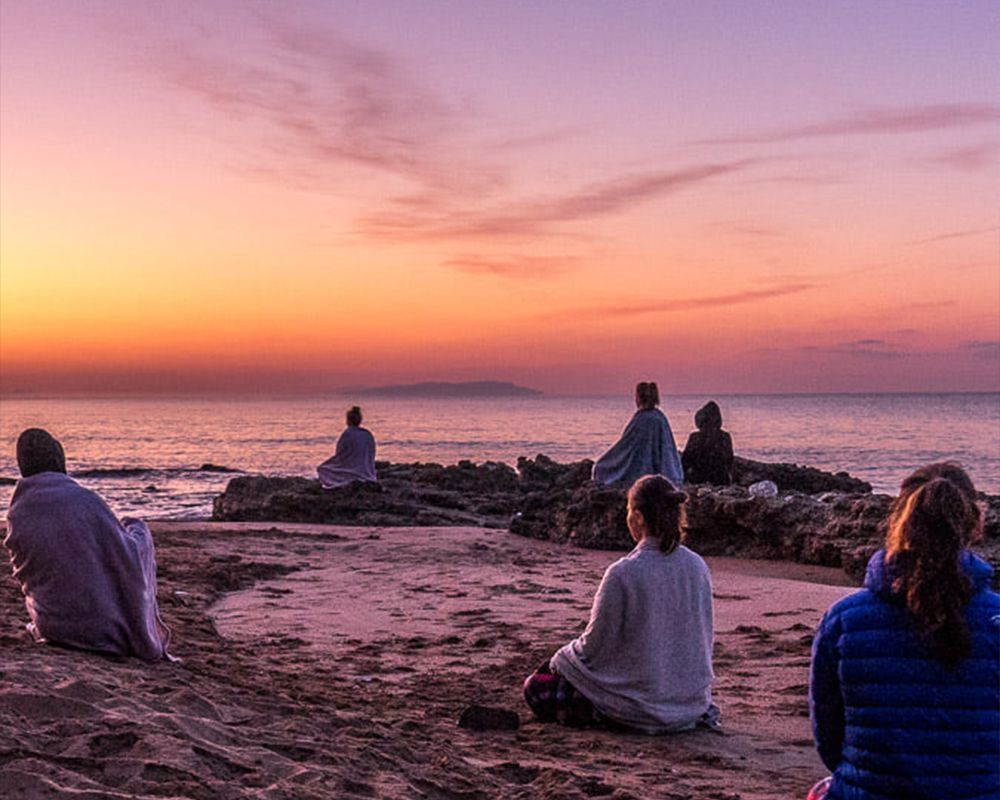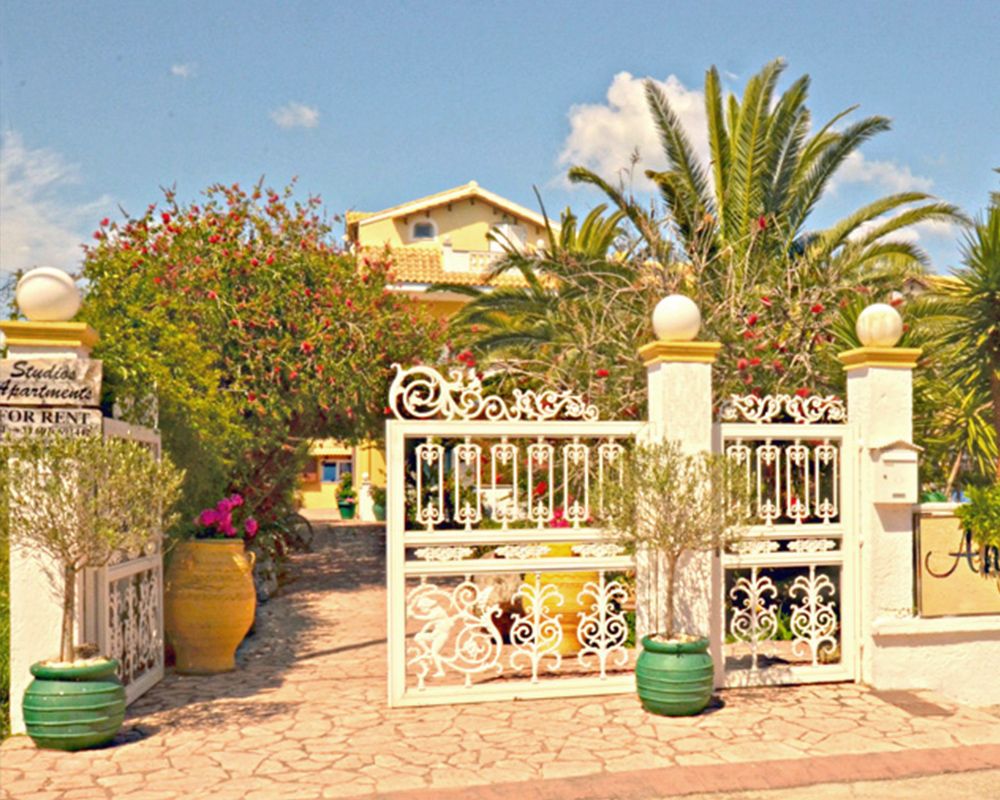 Our Base
The House
Make yourself comfortable, staying with us! Enjoy the comfort of your own room, or share your journey with a friend you brought along, or one you make here. Our premises is surrounded by beautiful nature, well maintained gardens, little areas for creating your own space of quiet and peace and 2 minutes walk from the beach.

Kipo Shala
Enjoy the soft evening sun rays in the Garden Shala

Backyard Shala
Solid, simple, perfect to go inwards
The surroundings
Relax on the beach, enjoy nature, or go out to dance with friends
St. George is a place where you can calm down, find peace, nature, relaxation on the beach – but it is as well a place for activities like biking, hiking, watersports or even going out at night to dance.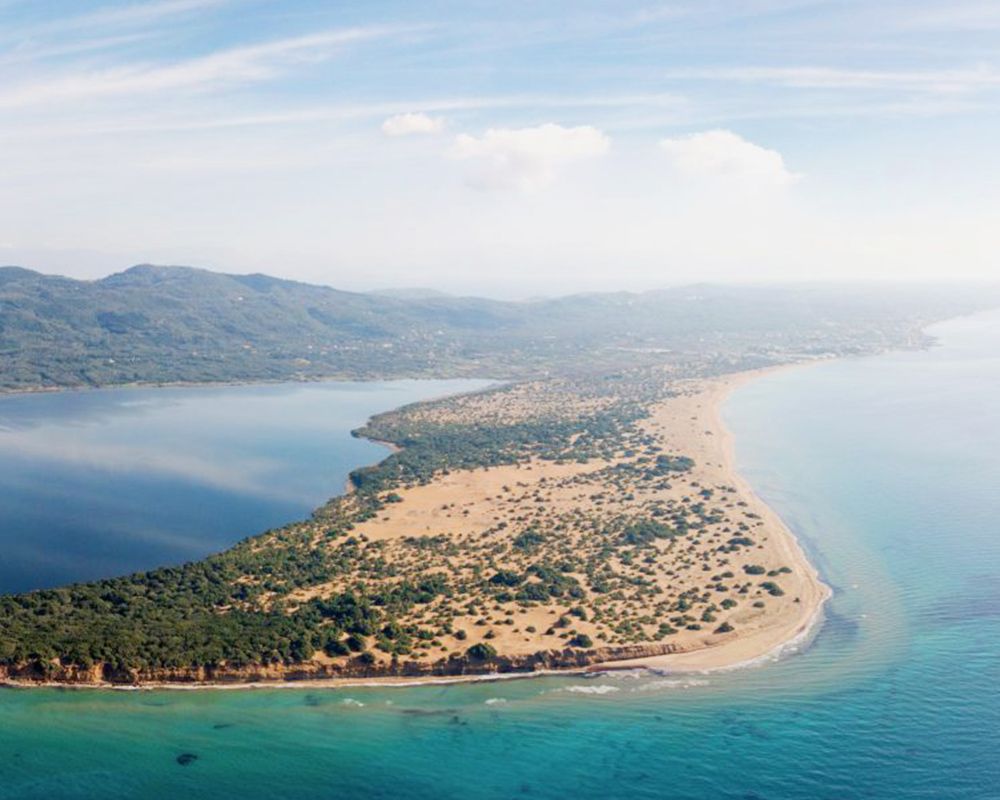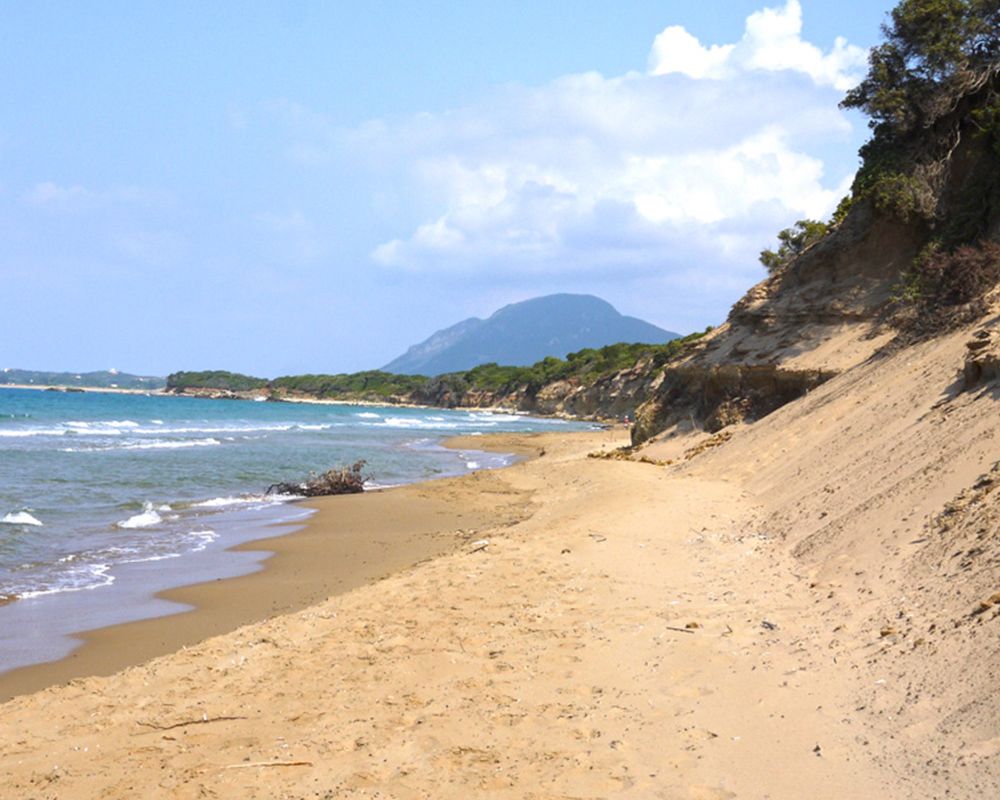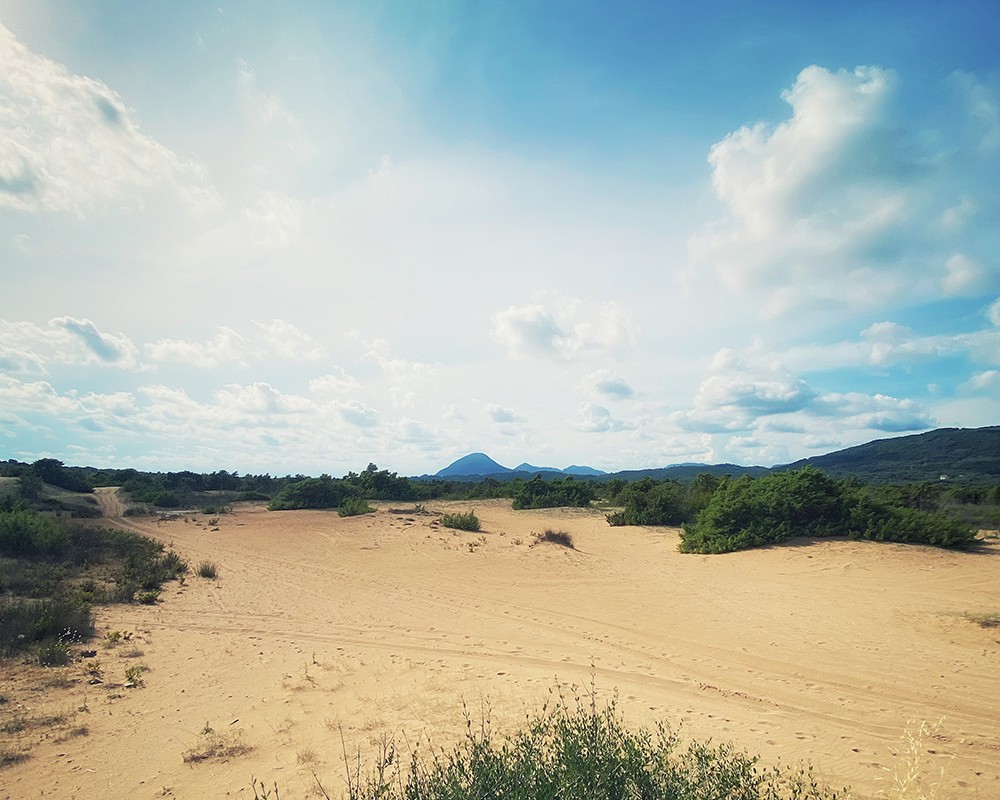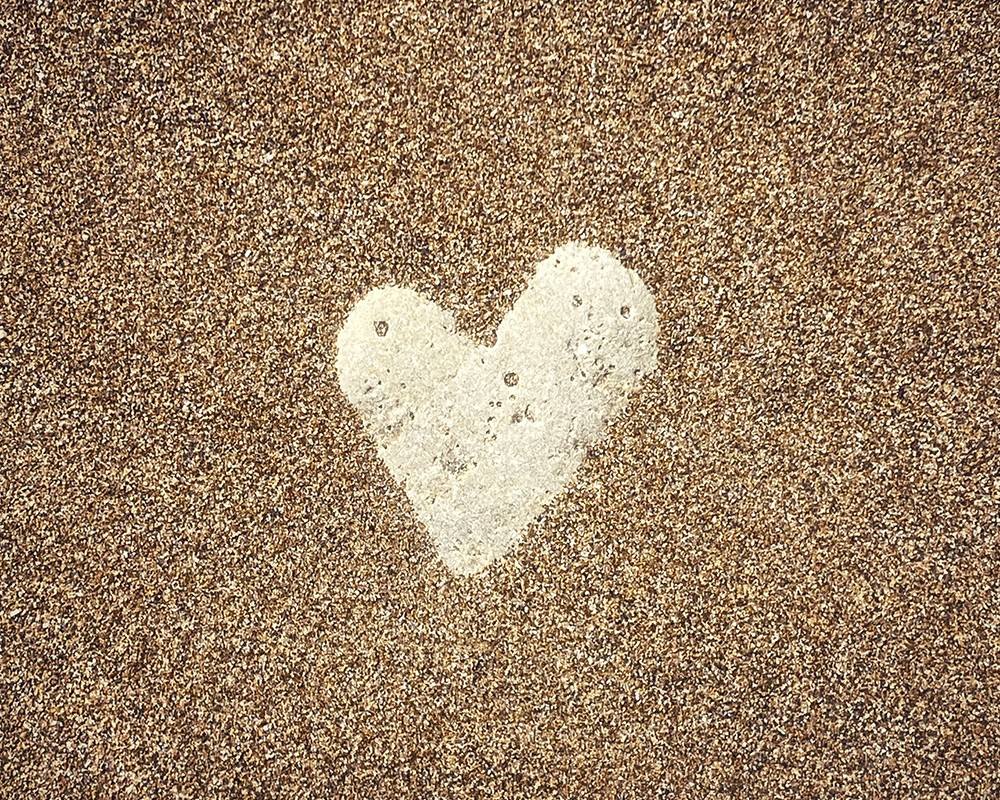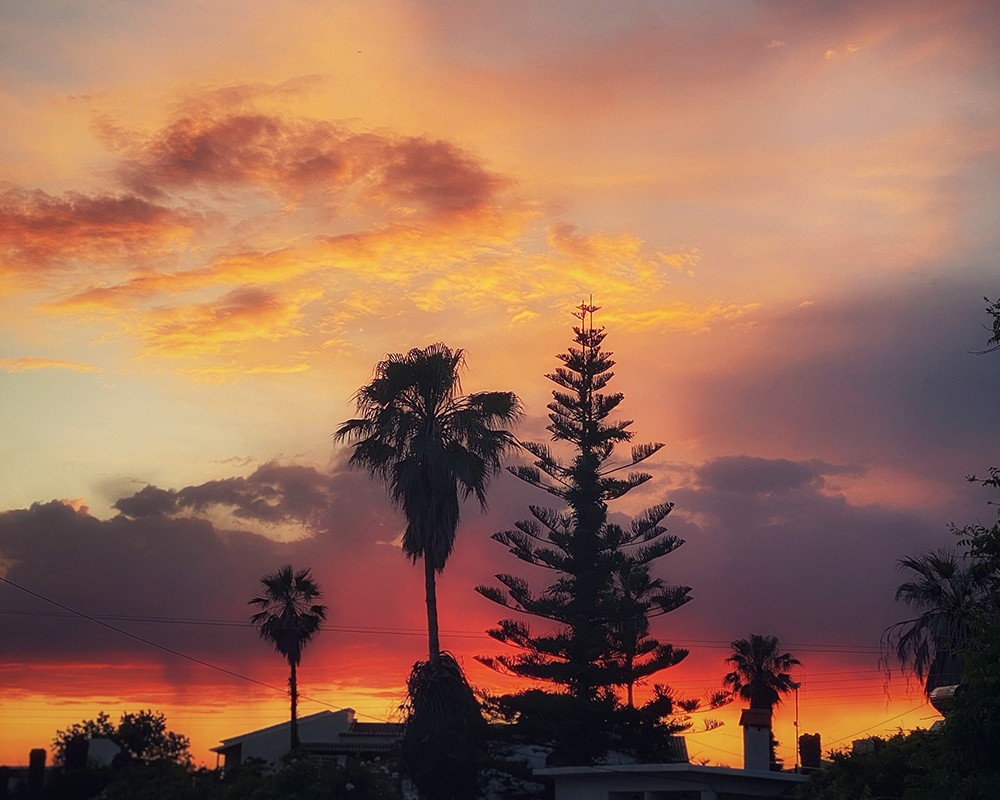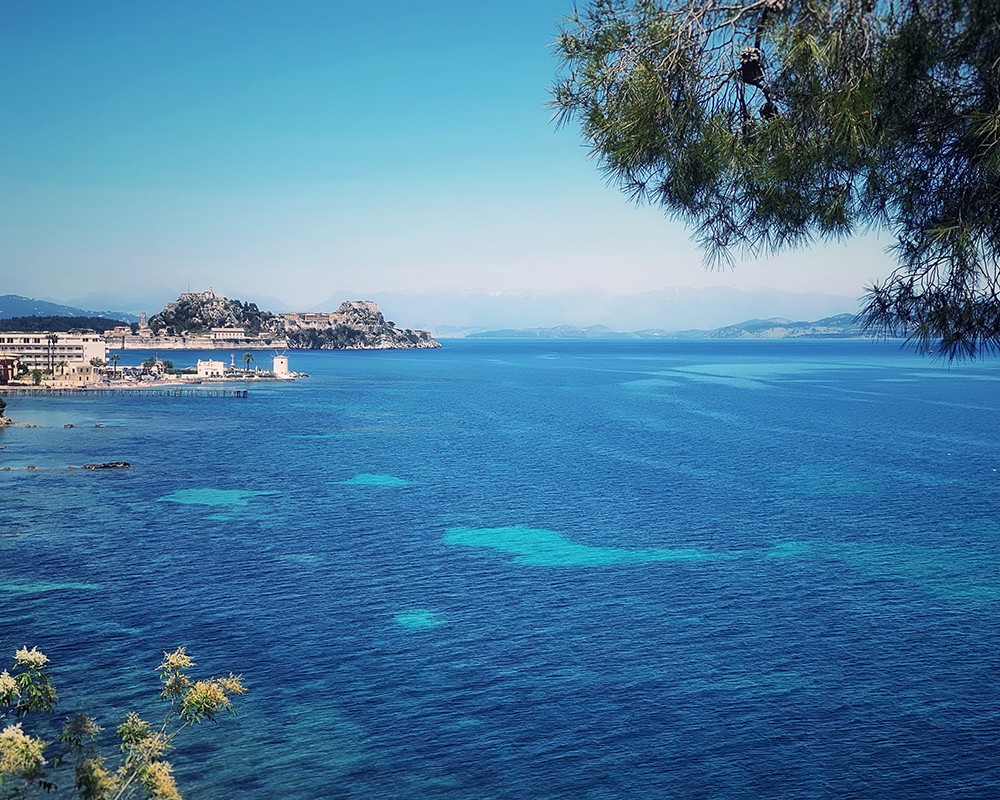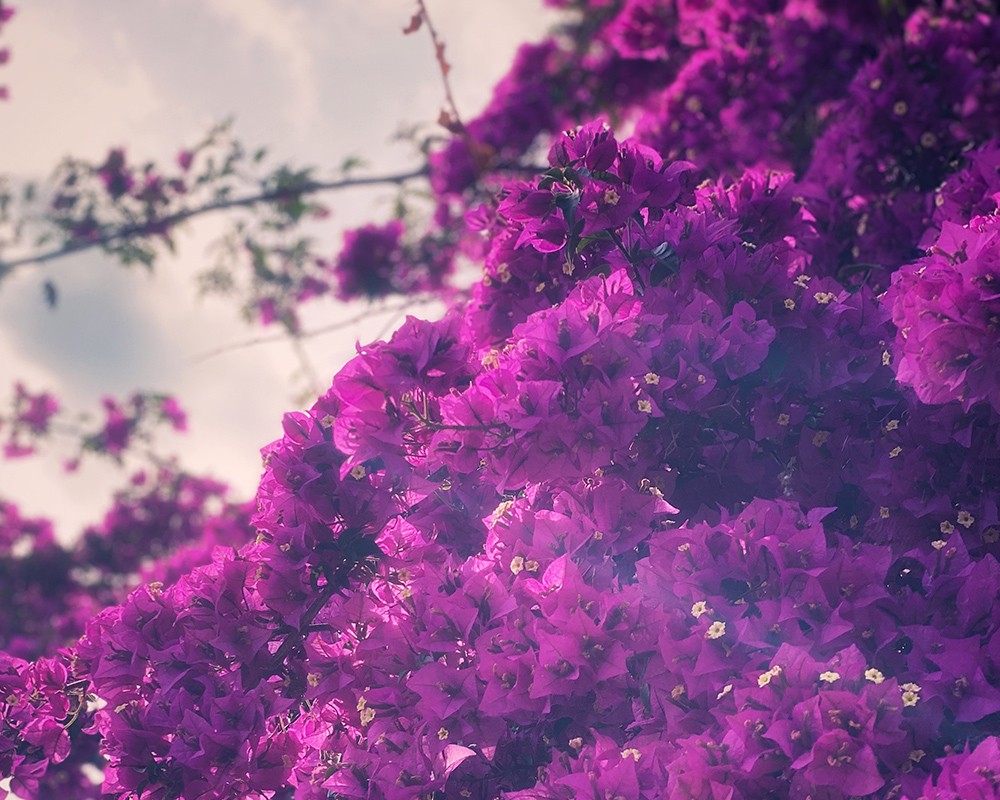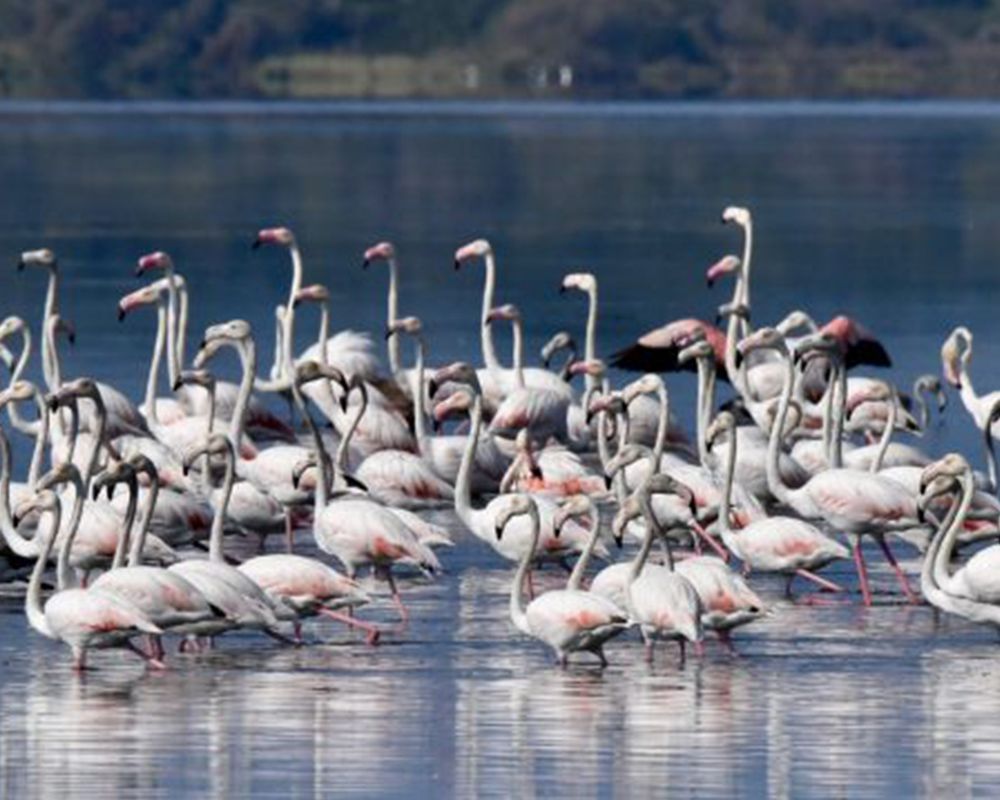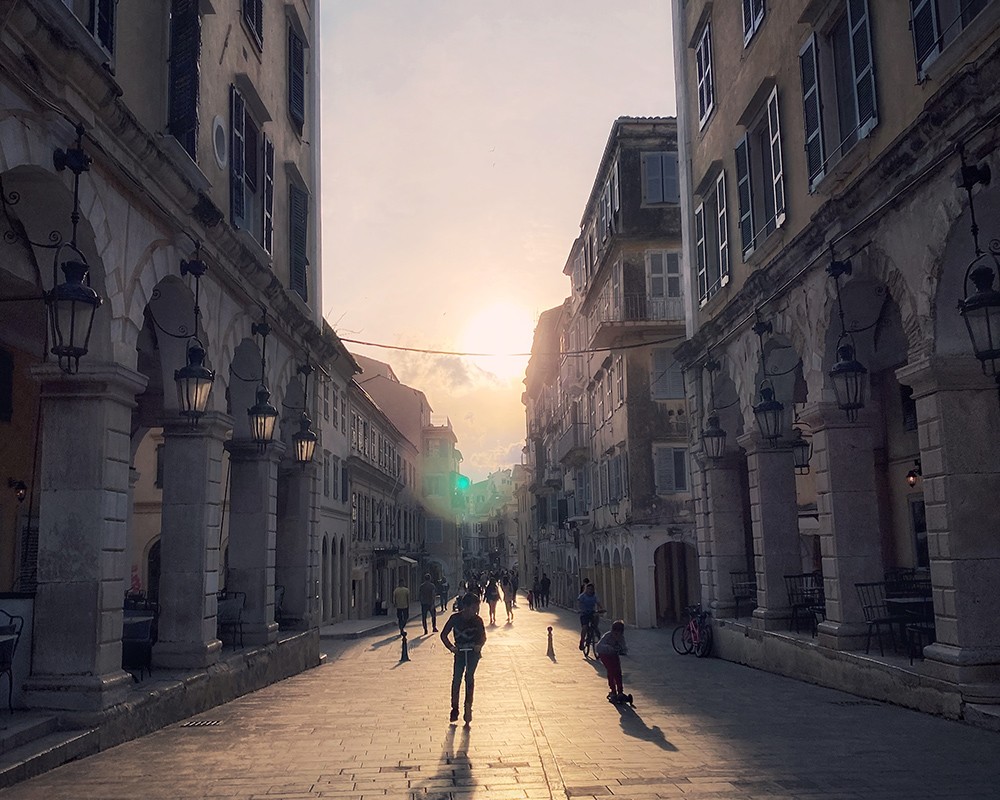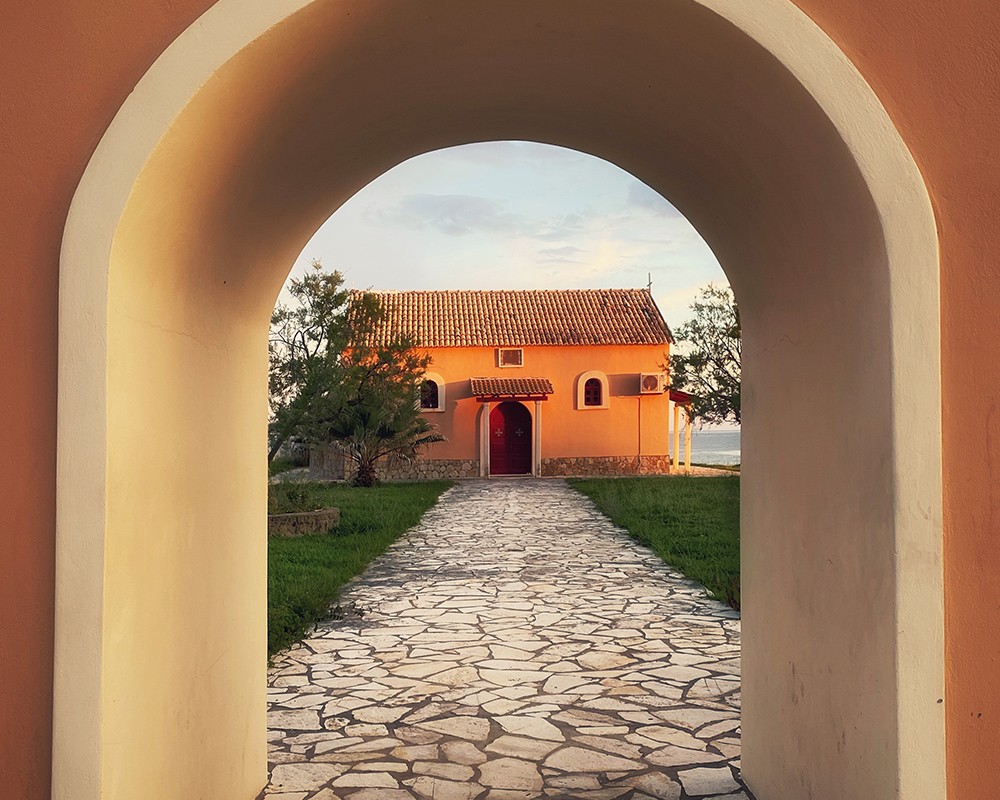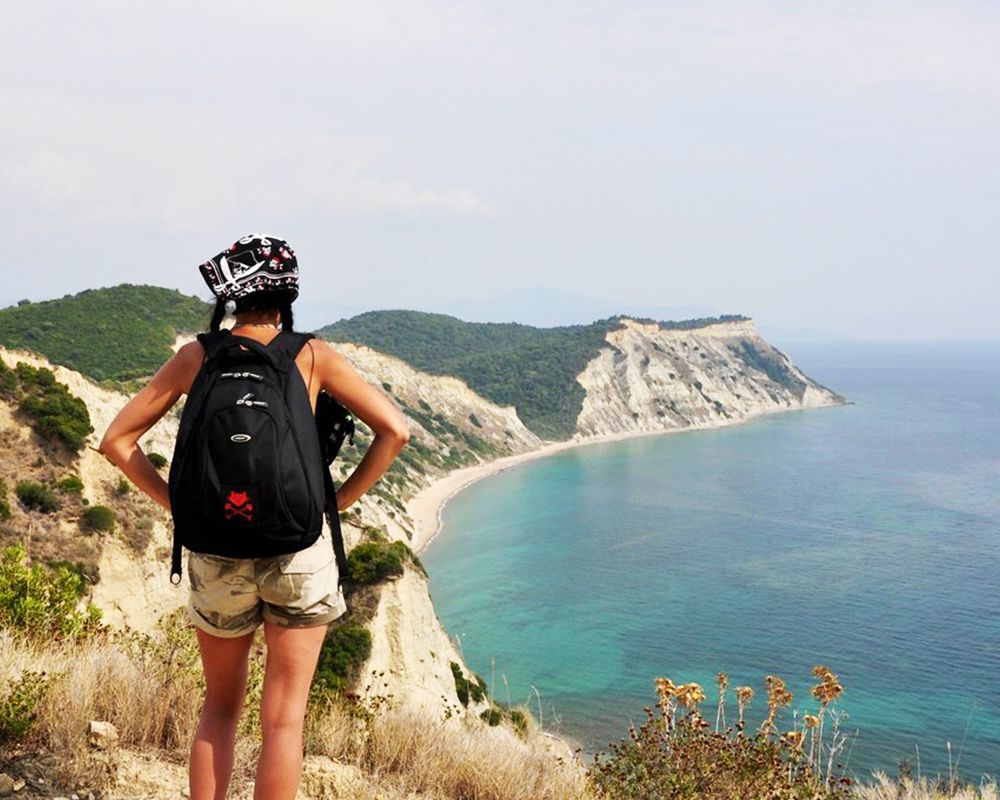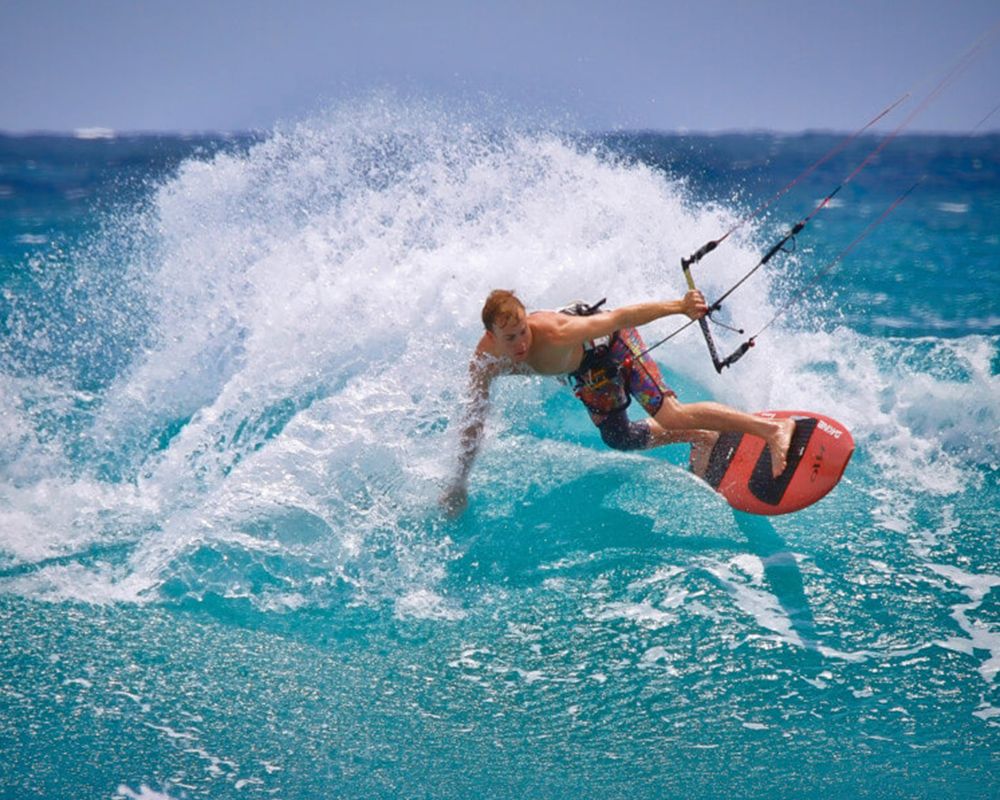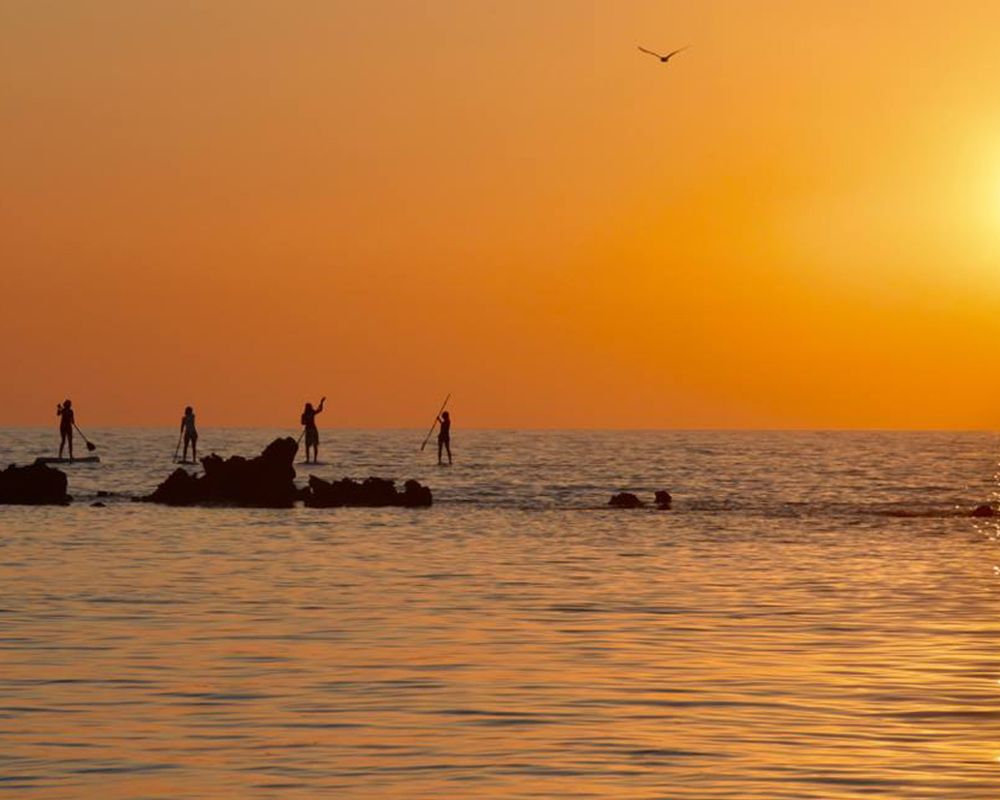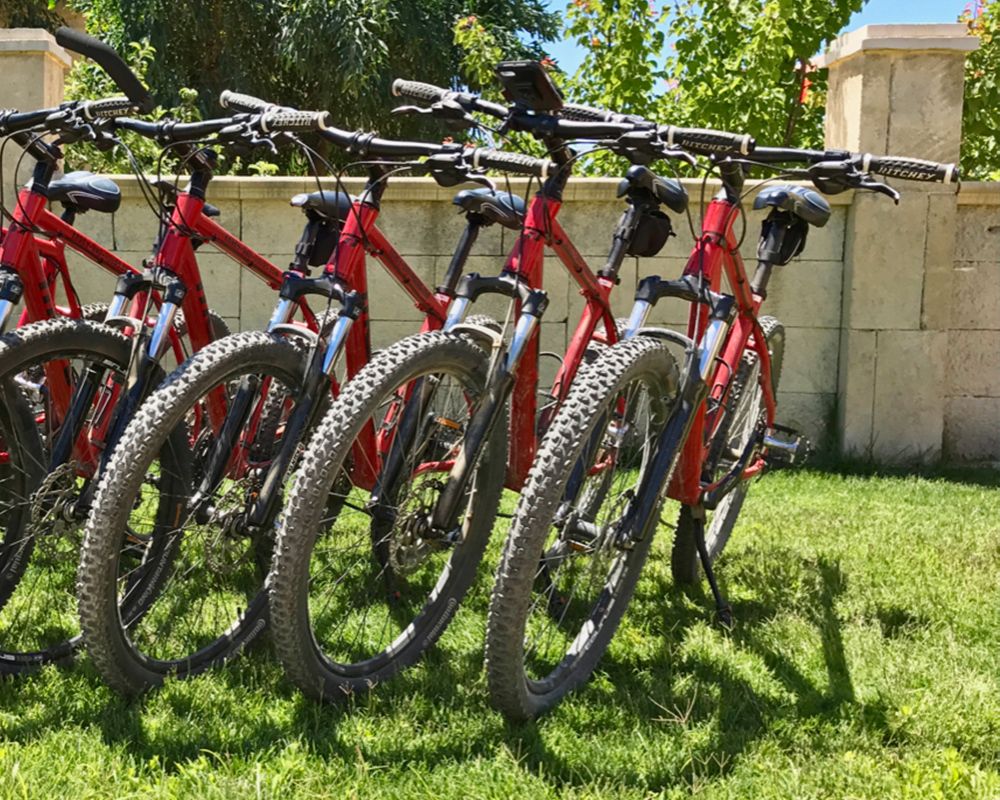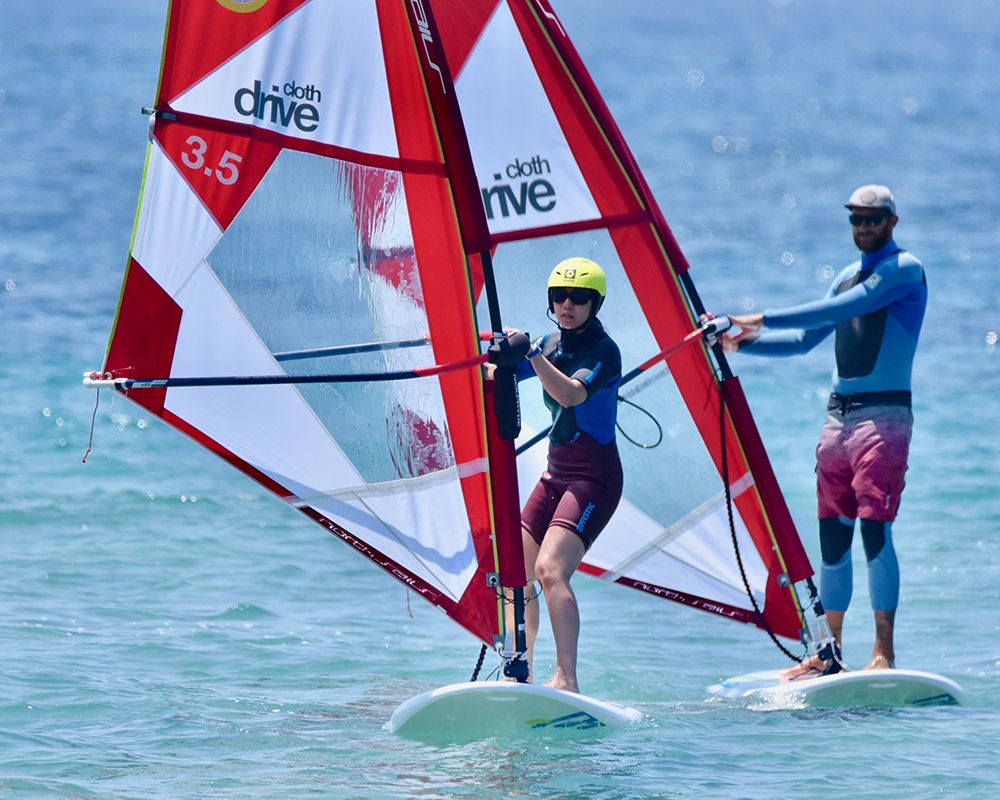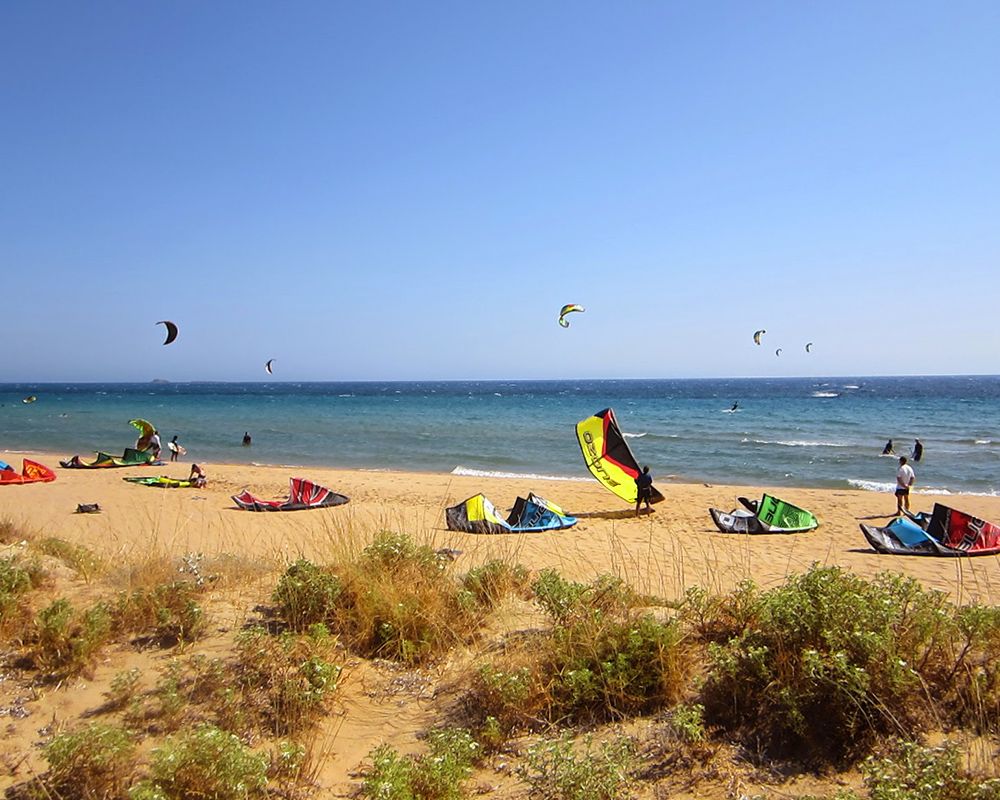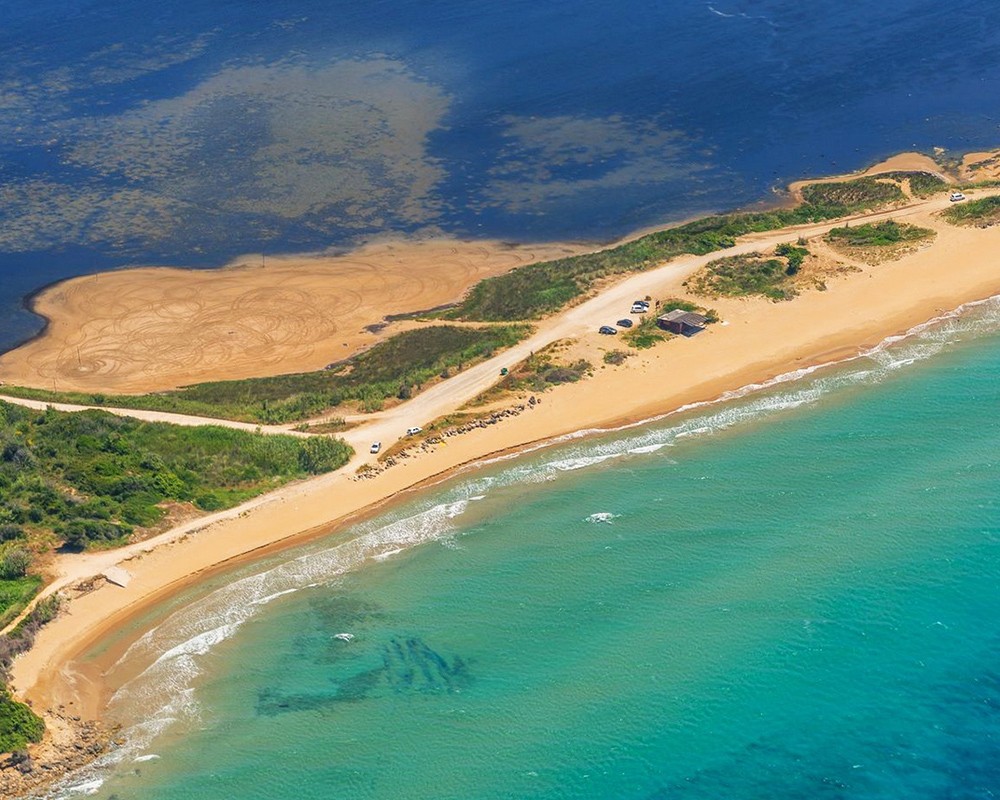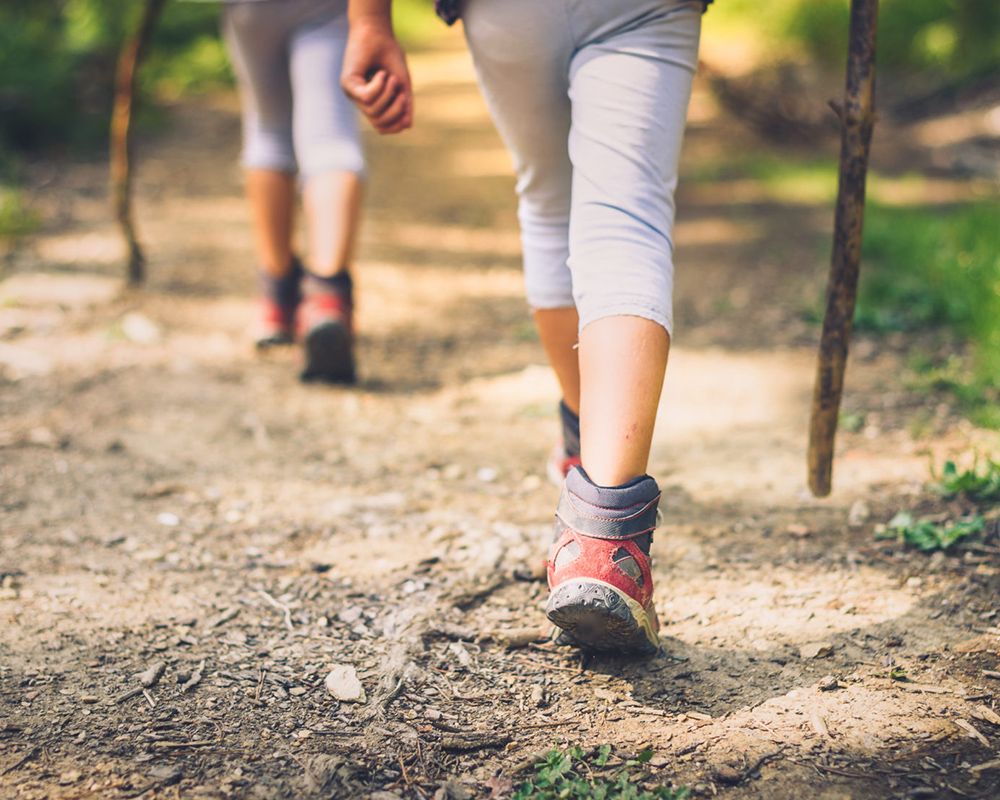 Activities
Boat Trips, Kite-Surfing, SUP, Jet-Ski, Flyboard, Canoeing
And if a little bit of fun is what you are looking to help you make this journey more joyful and round… you can find a boat to rent on your own, or share a little adventure with others, you can create some more action with kite-surfing, or have a blissful moment of calm on a stand-up paddle. Or go crazy on jet skis and fly-boards. It's all available in a stone's throw. And if a little work out is what you want but you also like the view of turquoise water, why not take a canoe?
About Us
Who are we? Well, isn't it exactly about that in life?
Sure, that's a question which a lifespan is not enough to answer, but we can try to give you a brief answer about our experiences and intensions and you make your own picture.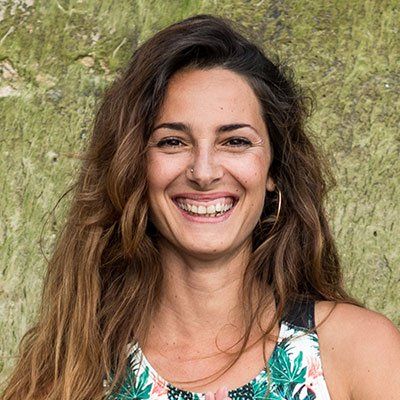 Athina Tamaresi
Head Teacher INEA • YOGA
I am a living enthusiast from Greece, having lived most of my adulthood in Italy and the UK. Yoga to me has been a wonderful journey, helping me divide my sense of self from my often busy mind and deeply, truly accept and connect with me as a whole. I teach to support and encourage people to connect with themselves and I practice to keep remembering that once you commit to living this life with your gaze fixed on the destination, your breath steady and your mind clear everything is possible!!! To truly serve this world, we must first accept our own inner demons... overcome whatever holds us back from blooming. Then, effortlessly, like a flower we will enrich the lives of all who enter our field!
Athina's Profile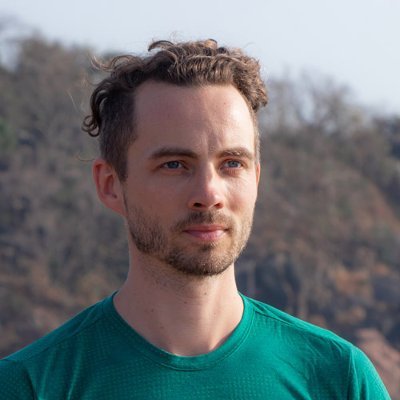 Cedric Stein
Head Teacher INEA • YOGA
Yoga is something very special to me – its the connection of breathing, moving and consciousness. Yoga not just happens on the mat, for me personally, yoga is the path to my true self – to freedom. I find the full depth of Yoga in Meditation. Since I started my Yoga practice, Meditation is my foundation and inspiration. My mission is to create a safe space for you to connect to your inner being. By following your breath, being in the present moment and noticing yourself.
Cedric's Profile
Airport Transfer
Book a stress-free shuttle
We want you to have a stress free time, just like you deserve. If you would rather somebody else do the driving for you, we can pick you up and take you to the retreat! Of course we care also to drop you off for your flight back. Make sure to check the right airport on the booking page.
Book your flight to CFU Corfu Airport
Cancellation Policy
Corona Special for 2021
We understand that cancelling is the last thing you want. However, re-arranging things has never been easier. You can still have some time for yourself. If things end up changing at the last minute (under 30 days from the start date), we offer you an 18 month long voucher that you can utilise towards any of our other retreats or services. Additionally, for cancellations that you make longer than a month in advance, you can have a full refund or take the voucher option too. In case of refund, we will charge you the transaction fees, which are estimated at 5%. We hope you understand and that this way we help you invest in yourself. Let's keep working towards an easier future for you and for us.