Free online summit 2021
This 3-day Summit gives you access to classes, lectures and workshops from incredible Yin Yoga teachers around the globe
The YINternational Summit (y)invites you to 3 days of free Zoom access to the deep, therapeutic healing of Yin Yoga. Practice sessions, lectures, workshops and classes throughout the weekend to de-stress, heal and learn – provided online by distinguished Yin Yoga teachers & experts from all over the world. Explore & experience deep release of physical tension, emotions and energetic blockages in various styles & themes of Yin Yoga; the path to your inside world. Enjoy deep healing and connection with your Self – and with other like-minded people – at any or all of the Summit's free guided sessions.
Speakers and Teachers
Learn from and practice with our brilliant & warm hearted teachers from all over the world
You won't find anywhere else an opportunity like this to gain insights from so many Yin Yoga teachers in one place at one time.
Testimonials
Testimonials





3-day program
One Schedule, Two Zoom Rooms
ROOM 01: De-Stress & Retreat
Theme one is de-stressing – for all of you who jearn for relaxation, healing the body and practicing methods to release stress. This schedule retreats body and soul.
ROOM 02: Education & Workshops
Theme two is for all of you, who like to dive deep into education, expanding knowledge and study. This schedule focuses more on the mind and learning.
DAY 01, Friday 13th Aug
Time is shown in your local (browser) time
10:00-11:00
Room 02
Opening Circle and Meditation
TJ, Cedric, Athina
INTRODUCTION
Yin Wisdom – how yoga tradition and science come together to create a holistic practice
12:00-13:00
Room 01
Wildly Slow & Calm: Take A Collective Breath & Ease Into Rest
13:00-14:00
Room 02
Hidden in Plain Sight: Yin Yoga and Meditation to Discover Wakefulness - A Discussion on the Buddha's First Noble Truth
14:00-15:00
Room 02
Establish your Sankalpa – Yin Yoga as a practice to align your heart-desires
15:00-16:30
Room 01
Soften into the Heart: A Yin Practice + Sound Meditation
DAY 02, Saturday 14th Aug
Time is shown in your local (browser) time
04:00-05:00
Room 01
Yin Yoga with Athina
05:00-06:00
Room 01
Yin for partners – Create an intimate connection (bring a partner!)
06:00-06:45
Room 02
Info and Q&A about our Yin Yoga Teacher Trainings in Greece
07:00-08:00
Room 01
Yin and The Chakras
08:00-09:00
Room 02
Living Yoga: Yoga traditions applied in modern life
09:00-10:00
Room 02
How to Enhance Happiness: Tools and Techniques for Seamlessly Fusing Yin Yoga and Positive Psychology
09:00-09:45
Room 01
Yin for Beginners: all you have to know for a safe yin practice
ROOM 01
»EARTH YIN HOUR«
Join the Global Yin Yoga Class
10:00-11:00 your local time
15:00–16:00 UK/London time zone
11:00-12:00
Room 02
Into Balance • Managing Our Female & Male Energies
Tricks & best practices to integrate yin & mindfulness in your life
Cedric, Sabrina, TJ
WORKSHOP
12:00-13:00
Room 02
Doing Business the Yin Way
13:00-14:00
Room 01
Stop, Drop & Feel: Yin Yoga to Heal Old Hurts
14:00-15:30
Room 01
Yin & Sound Journey
DAY 03, Sunday 15th Aug
Time is shown in your local (browser) time
04:00-05:00
Room 01
Yin & The Teachings of The Buddha
05:00-06:00
Room 01
Yin Yoga for Happiness
06:00-07:00
Room 02
"Teaching Yin with a Friend" Interview with Kitty & Jess from UK
Jess, Kitty, TJ
INTERVIEW
07:00-07:45
Room 02
The Yin Yoga Superheros – Four (scientific) reasons for the healing power of yin yoga
08:00-09:00
Room 01
"Yin-yasa" • A Yin & Yang Yoga Flow
08:00-09:00
Room 02
Interview with Corina Benner • Inclusionist, Teacher & Poet
09:00-10:00
Room 02
Practice Like Nature | Tao & Yin Yoga
10:00-11:00
Room 02
Open Q&A for Yin Beginners: Remove obstacles in your practice
11:00-12:00
Room 01
Yin yoga as a mental health anchor
Natalia Petukhova
WORKSHOP
Self Practice F.A.Q • Create A Safe & Healing Self Practice
12:00-13:00
Room 01
Let it go • Yin Yoga with Natalia
13:00-13:30
Room 02
Explore Inner Freedom through Yin Yoga
13:30-14:15
Room 02
Satsang • Ask Sudhir everything about Yoga and Life
13:30-15:00
Room 01
Behind Doing • Yin, Pranayama and Meditation. Exploring Yin as a means to access a space between & behind thoughts.
15:00-15:30
Room 02
Closing & Sharing Circle • Share your Yin Experiences
Sign up now and receive your access link
Summit Highlight
A Globally Synchronized Hour Of Yin Yoga
August 14th, 2021 at 15:00pm GMT+0 London time
that is 10:00 your local time
Be part of a global yin practice
Earth Yin Hour
The heart of the Yinternational Summit is the Earth Yin Hour. This internationally synchronized practice hour of Yin Yoga destressing aims to collectively dissolve accumulated tensions of humanity that we have been passing on to our planet, its ecosystems and all living beings. Join us in this collective healing practice with many studios and practitioners from all over the world. Our planet needs the conscious awareness of its inhabitants more than ever, we dedicate this practice to our planet earth. Be part of this unique experience, it's for free!
We plant a tree for your participation
For each participant we will donate the planting of a tree for you with One Tree Planted, show the Earth, Humanity and future generations that you want to be part of sustaining the longevity of the planet.
Find your zimezone
August 14th, 2021 – unite with the world
07:00am 🇨🇦Vancouver, 🇺🇸Los Angeles;
09:00am 🇲🇽Mexico City;
10:00am 🇺🇸New York, Washinton DC, 🇻🇪Caracas, 🇨🇺Havanna;
11:00am 🇧🇷Rio de Janeiro, 🇧🇷Sao Paulo, 🇦🇷Buenos Aires;
14:00pm 🇮🇸Reykjavik;
15:00pm 🇬🇧London, 🇵🇹Lisbon;
16:00pm 🇩🇪Berlin, 🇧🇪Brussels, 🇨🇿Prague, 🇫🇷Paris, 🇮🇹Rome, 🇿🇦Cape Town, 🇪🇸Barcelona, 🇸🇪Stockhom, 🇪🇬Cairo;
17:00pm 🇬🇷Athens, 🇮🇱Jerusalem, 🇷🇺Moscow, 🇹🇷Istanbul;
18:00pm 🇦🇪Dubai;
19:30pm 🇮🇳 India;
21:00pm 🇮🇩Jakarta, 🇹🇭Bangkok;
22:00pm 🇮🇩Bali, 🇭🇰Hong Kong; 🇲🇾Kuala Lumpur, 🇨🇳Shanghai;
23:00pm 🇯🇵Tokyo;
00:00am Sun 🇦🇺Melbourne;

With this YIN YOGA Summit you learn many different approaches of de-stress, relax, and understanding the healing powers of yin yoga
3-Day guided practice of learning to listen to your emotional, mental and physical needs!
destress & unwind • Immerse in this weekend for a deeper access to your unprocessed emotions and subconsious mind
get grounded and refind your center • getting yourself back to balance is key in the yin yoga practice
deepen your yin practice and knowledge by paricipating in talks and workshops
learn the latest insights from diverse perspectives from teachers around the globe
improove your health and become serene: Yin brings many scientifically proven, positive health effects
broaden your theoretical & practical teaching tools for those who teach Yin Yoga
Sign Up now for free to reserve your spot and receive your access link to ALL LIVE Talks & Classes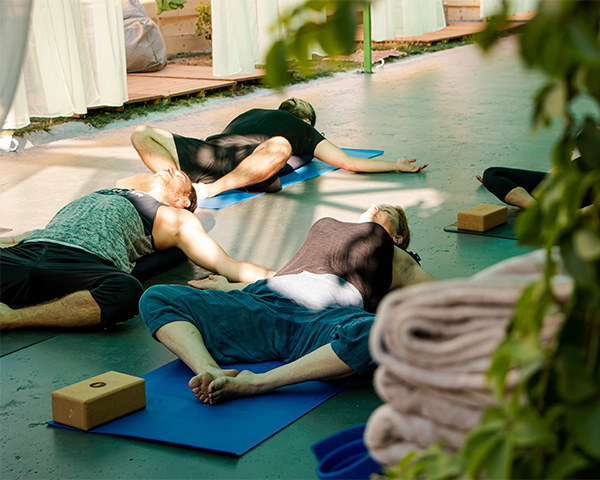 New in Yin Yoga?
Learn everything about yin yoga
This Event is not just for advanced practitioners – you can dive in as a beginner and learn the techniques and practices of Yin Yoga easily. Yin Yoga not only helps you to bring your body into balance and activate your self-healing powers, it also brings your mind to rest.
Why is yin so good for you?
its slows you down, relaxes and quietens the chattering of the mind
it is very easy to learn
de-stress your body and mind
the exercises are not strenuous, but relaxing
you can do it almost anywhere
and the great effects can be felt directly
become patient and calm in your relationships
What is Yin Yoga?
A practice to relax and heal
Yin Yoga is the counterbalance to today's fast and stressful world, which is dominated by stimulus satiation and over-entertainment. Yin is a slow, soothing, and meditative style of yoga that targets the deep connective tissues, bones, joints, fascia, and ligaments in the body. With Yin Yoga you will find peace and bring your body back into balance.
In Yin Yoga, we hold mostly passive poses for about two to five minutes to work into our connective tissues. Lengthening extremely tight tissues can be an uncomfortable practice, but using this time to focus on breathing is a large part of Yin Yoga and also one of the many Yin Yoga benefits.
Typically when we experience discomfort, our bodies naturally become tense and we use our fight-or-flight response. Yin Yoga teaches us to reroute the mind and slow the heart rate when we experience discomfort.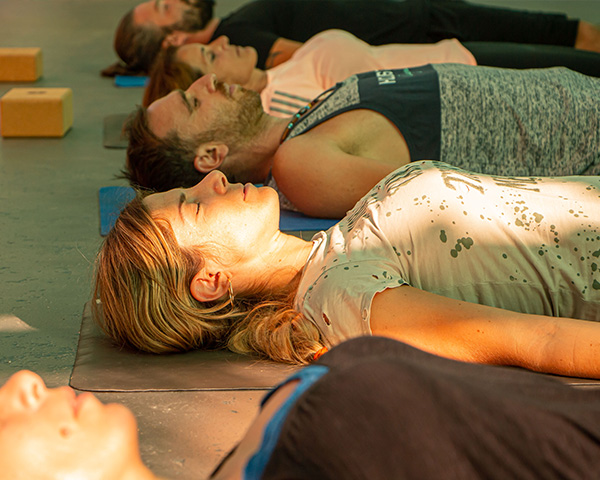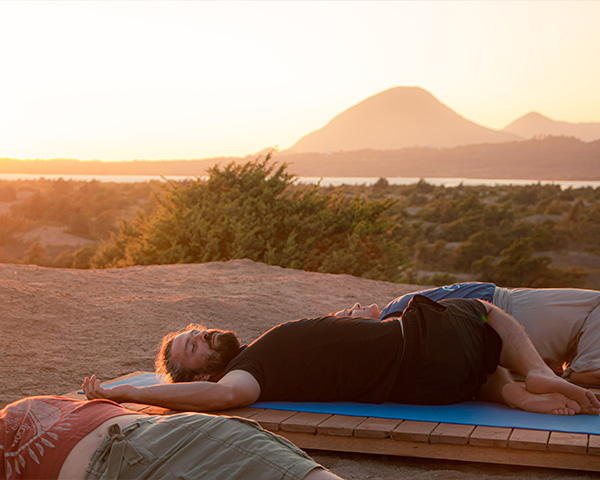 Improve your health!
Yin has many health benefits
As we age, our bones begin to degenerate, we lose mobility in our joints, and our fascia tightens. But a consistent Yin Yoga practice helps to regain mobility and ease pain in the body. This is because it applies gentle, healthy stress to our joints and gentle stretch to our connective tissues.
Key benefits of a yin practice:
Targets connective tissues including fascia, bones, and joints
Reduces stress
Boosts your circulation
Balances internal organs and improves flow of prana
Balances our yang or fast-paced physical yoga practice
Relieves tension
Improves flexibility
Encourages mindfulness and meditation
Heal body, mind and soul
What do you experience by practicing yin?
On the physical level
On the physical level Yin Yoga targets bones, joints and connective tissues. There is no aesthetic ideal to reach which makes the Yin Yoga approach very liberating, instead there is an emphasis on a functional approach.
On the emotional/mental level
On the emotional/mental level the Yin approach prepares the practitioner for meditation as one of the central intention of the yin practice is the cultivation of inner stillness and a keen sense of introspection, like Paul Grilley describes it: Yin Yoga is a Quiet Practice.
On the energetic level
the practice reconnects with its roots of Taoist yoga, and uses the ancient map and modern theory of the meridians, the long holds in Yin restore harmony in the subtle body by targeting the channels that run through the connective tissues.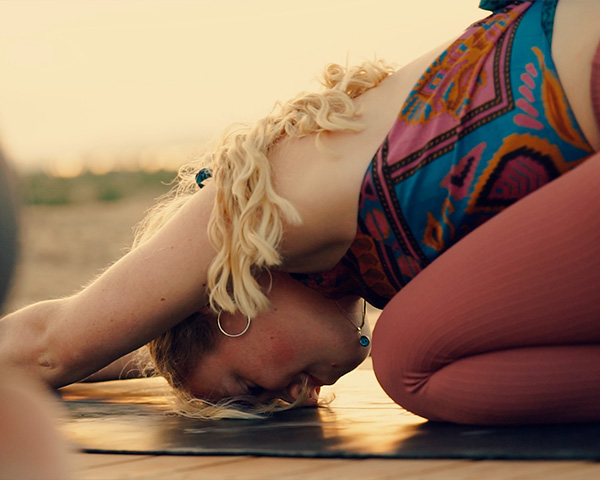 establish inner peace and relationship healing
Become more patient and calm
Yin yoga gives you the time and space to allow emotions, thoughts and feelings you have kept in the shadows, to surface. According to Traditional Chinese Medicine (where many of the principles of Yin Yoga stem from), these stored-up emotions can manifest as pain or blockages like knots in our shoulders, tight hips, sore necks, or internal pains.
Generally speaking, during a Yin yoga class, you will be encouraged to allow all those feelings to be there, but not to identify with them. To observe but not get caught up in them. It costs the body a lot of energy to keep things suppressed, so the release you feel from letting it all come out can be just as big.
Heal your body
The buzzword is facia. Think of your fascia like shrink wrap around your muscles and bones. When this connective tissue is underused, it becomes less elastic which can lead to aches and stiffness. "If you gently stretch connective tissue by holding a yin pose for a long time, the body will respond by making them a little longer and stronger—which is exactly what you want," Paul Grilley a registered yoga teacher, explains.
Increases your flexibility
Elastic fascia and mobile joints lead to better flexibility, which is one of the key benefits to a regular yin yoga practice. Because fascia needs at least 120 seconds of sustained stretching to actually affect its elasticity, yin is one of the most effective ways at improving your flexibility and releasing tension in tight spots thanks to its long holds.
Switch from fight to relaxation mode
In Yin you develop a deep feeling for your own body. By passively stretching your muscles you activate the self-repair mechanisms of your body. Your whole system can relax from stress and regulate itself again. Because our body has the great function to heal itself.
That calm you feel after a yin class is very real—studies have found yin yoga to have a significant impact on lowering stress and anxiety and reducing the risk of depression. Plus, it activates your parasympathetic nervous system, which calms your body and slows your heart rate
Who is Yin Yoga for?
Yin yoga is for you if you are tired and craving energy or you're over-stimulated and have too much energy. But the answer of who is it for is very easy to answer: for everyone. No matter of age, physicall level or flexibility. And you hardly can over do it, because Yin is a balancing practise.
learn a Mindfulnes practice
Best preparation for meditation
Yin can also be a great starting point for anyone interested in meditation as it has such an internal focus. You can expect slow, deep stretches and meditation in a Yin Yoga class that balances and strengthens the body, mind, and spirit.
In the yin practise we focus on the breath, which is also a major meditation technique. Breath is an important component of yin yoga, too, because it gives you something to focus on in the more difficult and uncomfortable postures.
Sign up now and receive your access link
INEA YOGA
2021-04-19 12:05:21
2022-01-28 21:01:30
https://www.ineayoga.com/images/inea-yoga-logo-16x9.png
https://www.ineayoga.com/yinternational-summit