Yoga Holidays Greece 2024
Yoga Retreats in Greece
Connect to yourself at our Greece Yoga Retreat on the beautiful island of Corfu, surrounded by peaceful nature and the sea. Simply rest and restore.
Yoga Retreat Dates 2024
YTTC at INEA • YOGA School Greece
200-hour Yoga Teacher Training
Join our Vinyasa and Yin Yoga Teacher Training Course in Greece. Learn from experienced teachers and discover the deeper aspects of yoga.
Yoga Teacher Training Greece
Deeply relax at our Yoga Retreat Greece
Our 2024 Yoga Retreat Program is now open for bookings!
INEA • YOGA Retreat Centre is the place where you meet like-minded people, deepen your practice and enjoy a Yoga Retreat just a few steps from the beach. We run week-long retreats between April and October 2024 on the beautiful Greek island of Corfu. Revel in multiple daily yoga and meditation classes, a cozy place to unwind and additional activities during the retreat, while you bathe in the Greek sun and the Ionian see. Select your preferred retreat date and come join us on Corfu, where a magical new experience awaits you.
What to expect at our mindfulness retreats in Greece
Time and space for you and only you!
Each of our retreats is centered around serving your needs. You'll relax, restore and get all the inspiration to grow. We provide the perfect environment and tools for you to utilize these ancient practices, guiding you towards a calmer, more centered, and empowered self. Our Retreat Center is just 2 minutes from the nearest beach with more stunning beaches in walking distance. Book your Yoga Holiday in Greece and find us on Corfu island!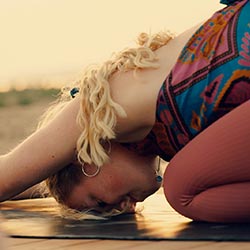 deeply
Relax & replenish
Time to
rest & restore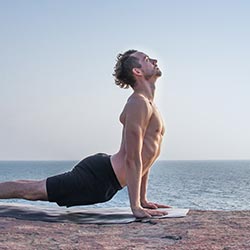 Build Strength
and Flexibility
Improve your
yoga practice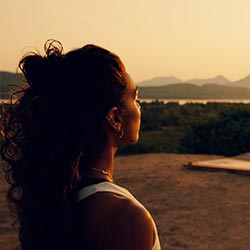 Empower
yourself
Re-connect with
yourself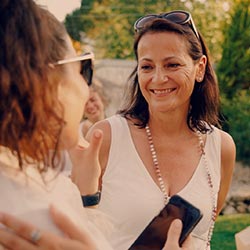 Make new
friends
Meet like-minded people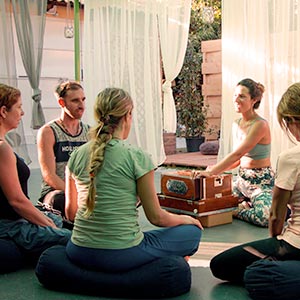 Daily Yoga
Workshops
Deep dive into Yoga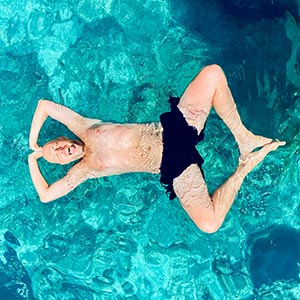 Swim in the
Mediterranean Sea
Enjoy the Greek sunshine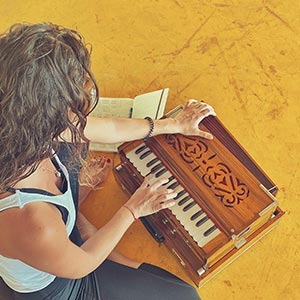 Sound-baths and
Mantra circles
Let the magic of
sound heal you
INEA•YOGA Google Reviews
Over 175 guests rated us with 5/5 stars
Yoga Teacher Training Course Greece
Become a certified Yoga Teacher
Learn and embody the ancient wisdom and teachings of Yoga with our foundational Vinyasa and Yin Yoga Teacher Training Europe. Experienced teachers will guide you to a profound yoga self-practice. Additionally, you will learn how to teach others safely and confidently. The journey towards a yoga teacher is life changing and deeply transformative for most people who join a Yoga Instructor program. Not just because yoga has so many powerful tools, also because it's a decision towards a new lifestyle and a new you, ultimately. It is the first step towards a more conscious life where you rest in your center, with a strong will and calm heart, following your true purpose.
Join this transformational journey
This is why students join our Teacher Trainings in Corfu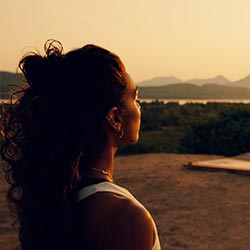 Self-confidence & Empowerment
Uncover your full potential
Become courageous, fearless and self-confident in every aspect of life. Yoga is teaching you to unleash your full potential. And you are extraordinary – on and off the mat!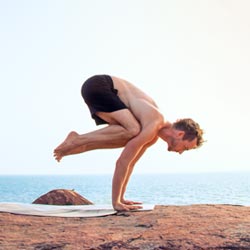 Alignment, Strength & Flexibility
Improve your practice!
A daily systematic practice will improve your Asanas, your body knowledge, strength and flexibility as well as will power and discipline.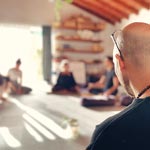 acient widsom and modern knowledge
Learn to teach yoga safe and confident
From day one you learn how to guide students into a profound, safe yet transformative practice.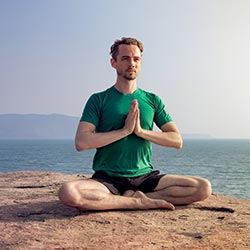 Learn Meditation
Calm the Monkey Mind
You will learn techniques to calm the mind in daily meditation sessions. Gain a deeper understanding of the philosophical background and the ultimate goal of Yoga.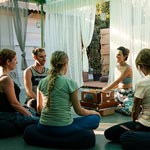 Philosophy of Yoga
Understand the "Why"
You will explore the origin and heritage of the teachings in yoga philosophy and understand the "why" behind the yoga practices. Learn to embed your classes in a philosophical theme.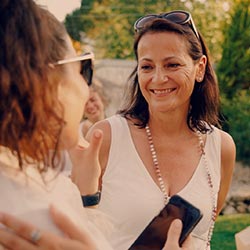 You are not alone
Create deep relationships
It sounds like a cliché, but it's true. Going through transformative times together is the foundation for strong friendships.
Learn and dive deep at our Yoga School in Greece
Start your Teacher Training journey today
Explore our Trainings

Free online Classes
Our best yoga videos
Premium Yoga Courses
Yoga Masterclasses and Online Courses
Yoga Holidays Greece, retreats and yoga teacher training courses
FAQ Yoga Retreats and YTTC in Greece
What are the available dates for the Yoga Retreat in Greece for 2023?
Which yoga styles do you teach at the Yoga Retreat Center Corfu?
We teach Vinyasa Flow (Anusara inspired), Tantric Hatha Yoga, Yin Yoga and Yoga Nidra. Additionally we offer workshops, Mantra Chanting and Sound Experiences. All our yoga teachers are registred with Yoga Alliance (E-RYT 500).
Is there a sandy beach close to the Yoga Retreat Center?
There are multiple sandy beaches in the area around the Yoga Center. It's only one minute to the closest beach called Lakkiess (walking distance). And just a 20 minute walk away you'll find the beautiful Issos Beach, with a nature reserve just next to it.
What should I expect on a typical day of a Greek Yoga Holiday?
We have a retreat package prepared for you. You do not have to participate in all scheduled activities and classes, do as much as you want. These are the offerings: Morning meditation (30-60 min), Morning yoga practice (more intense/flow) Vinyasa or Hatha, followed by a delicious brunch and free time (beach/hiking/water sports/day trip) or other activities. In the afternoon we offer workshops and an evening Yoga class (more calm and regenerating like Yin, Tantric Hatha Yoga, a Sound Bath, Yoga Nidra or Restorative Yoga). At the end of a day, we have a healthy Greek dinner tohgether. Some nights we offer additional film screenings or satsangs of yoga topics.
Who is your audience? What kind of people join your Yoga Retreats?
People who join us have a passion in common: yoga. We share similar life values and an attitude of an open mind and honesty. Therefore, it's really not about age or the fitness level. Most participants are between 20-45 years, but we regularily have some beautiful souls over 50 joining our retreats and Yoga Teacher Trainings as well. Everyone who comes in peace is welcome at our Yoga Center in Greece.
Where is the Yoga Retreat Center Corfu located exactly? How do I get to you?
Our Meditation & Yoga Retreats and Teacher Trainings are located on the island of Corfu, Greece. The Resort is called Agios Georgios (St. George) and is located in the south-west of the island. Approx. 30 kilometers from the airport and Corfu town. Note, there is also a St. George in the north of the Island, please find your way to St. George South. We can arrange airport pick up at extra costs.
Do you offer drop-in classes at INEA•YOGA School Corfu?
Yes, during the season (from April until October) we have daily drop-in classes at the center. Please find the schedule (changing times during season) on the website or send us an email.
Are your Yoga Retreats and classes suitable for beginners?
Yes! In our Yoga Retreats and daily drop-in classes we have mixed groups of beginners and intermediate participants. We learn from each other. If a Retreat it is not for beginners, it is explicitly stated in the quick info section of the detail page of the specific retreat. It is helpful for you to have been to a couple of yoga classes to have a rough idea about it. If you are an absolute beginner and haven't practiced before, please join our "beginners only" retreats.
Do you offer private Yoga sessions at INEA•YOGA in Corfu?
Yes, our yoga instructors are all available for private yoga classes. Our teachers are certified with Yoga Alliance. Extra fees for private classes apply.
Do you have Massage or Spa treatments?
We provide massages to our guests from our in-house massage therapist Jenny. She has over a decade of experience and offers a variety of treatments.