Free yin online conference 2022
This 3-day Yin Summit gives you free access to classes and talks from incredible Yin Yoga teachers around the globe
The YINternational Summit y-invites you to 3 days of live Zoom streams of Yin Yoga practices. Join classses, lectures & workshops throughout the weekend to de-stress, heal and learn – provided online by distinguished Yin Yoga educators & experts from all over the world. Explore & experience deep release of physical tension, emotions and energetic blockages in various styles & themes of Yin Yoga.
20 Speakers and Teachers
Learn from and practice with our brilliant & warm hearted teachers from all over the world
You probably won't find anywhere else an opportunity like this to gain insights from so many Yin Yoga teachers in one place at one time.
Testimonials





3-day program
Over 35 session in 3 ZOOM live streams
Friday, 18th Feb
Day 01
Time is shown in your local (browser) time
Opening Circle & Event Introduction
Panel Talk • Union Through Yin Yoga
Athina, Sally, TJ, Cedric
Panel Talk
Yin Yoga Introduction for Beginners #1
First steps into a safe and healing Yin Yoga practice. How to stretch in yin – thresholds and body postures.
Trustful Surrender • Yin Practice Into Guided Relaxation
A practice to embody and explore our capacity for trustful surrender. Give yourself the time to soften into stillness; to let the body hold you and the breath support you.
Yinyasa • Yin&Yang Yoga Class
A class starts with a gentle slow yin practice that evolves into a dynamic vinyasa flow.
Qi-Gong and Yin Yoga
Introduction to the ancient practices of Qigong and how the more modern practice of Yin Yoga can overlap beautifully.
Empowered Peace
A prana-enhancing practice to connect to and harness your personal power and peace. Asana, Pranayama and Mantra.
Obstacles in Practice and Teaching
How do we tackle arising obstacles in our own practice as well as in the practice of teaching yin yoga. Aside from some tips and tricks, this is an interactive session with Q&A.
Tuning In: Yin and Yoga Nidrā
Take a journey inward with a calming yin class that flows gently into a deeply relaxing guided Yoga Nidrā meditation practice.
Sat, 19th Feb
Day 02
Time is shown in your local (browser) time
Yin Yoga with a Self Massage
A "Complete" Practice
Nourish the energy body with this Tantric Hatha Class that leads into resting Yin poses followed by Pranayama and a grounding Meditation.
Yin Yoga & Food Therapy
Add another layer to your Yin Yoga practice by applying the 5 Elements from Chinese medicine to Food Therapy and the Energetics of food. We will discover seasonal cooking, cycles, the energetic alchemy of food preparation and an introduction to functional foods.
Chocolate Syrup Yin Yoga
[Bring hot-chocolate or chocolate milk]
Sthiram-Sukham-Asanam
Yin As A Practice For Calmness And Steadiness In Life [Derived from the teachings of the Yoga Sutras]
Increased vagal tone
For Deeper Relaxation States
Yintention
Heart blossoming manifestation meditation and yin class wrapped in experimental ambient and sentimental piano audio to relax your body and unwind your mind.
Yin Yoga Introducation for Beginners #02
Understand how to use the Breath and get basic knowledge about Yin Anatomy.
ROOM 01 • FREE ACCESS
»EARTH YIN HOUR«
Join the Global Yin Yoga Class
10:00-11:00 your local time
15:00–16:00 UK/London time zone
Panel Talk 2 • Yin Yoga Beginner To Advanced
Yin Practice • Full acceptance of everything that is
A peaceful slow practice to feel how full "permission" is key to digest whatever life brings.
Chinese Medicine, Emotions, & Yin Yoga
Repressed or overwhelming emotions are a cause of disease in Chinese Medicine. We'll explore the sinew channels, Wei Qi, the Five Elements, and yin yoga poses as a medium for fostering greater emotional resiliency. This practical talk will allow you to see your yin yoga practice as an act of self-preservation in uncertain times.
Harmony & Courage • A Yin Yoga Sound Journey
Indulge in a nourishing yin sequence catered to stimulating the Liver & Gallbladder meridian; increasing our sense of courage, emotional balance, a cooling of anger or jealousy, strong vision and decisiveness. Including Sound Bath.
Dis-(Y)integration • How To (Not) Loose Your Practice
This is an interactive Q&A session to help you build a sustainable practice.
Let us chant, pray and meditate together
Sun, 20th Feb
Day 03
Time is shown in your local (browser) time
Yin Yoga For How To Have Absolute Outrageous Abundance
Cat guides you through Yin poses as you explore some perspectives about abundance at the same time.
Relaxation & Food Energetics
By understanding how different foods and cooking styles affect our mood, organs, energy levels and ability or inability to relax we can begin to truly find the peace we need and live more in harmony with the 5 Elements and our emotions. This talk focuses on functional food for relaxation and calmness.
Prana-Yin
In this workshop Marta connects Yin Yoga with Pranayama.
Connect With Your Emotions Through Yin Yoga & Chinese Meridians
A one hour lecture on how we form and resolve our emotions through the paradigm of yin yoga and meridians. Discover how you can integrate meridian knowledge into your yin yoga practice for emotional healing and growth.
Yin Yoga For Balancing The Chakras
Panel Talk #03 • Bodies In Yin Yoga
Yinyasa For Deep Nervous System Nourishment
This is an active yin and anusara/vinyasa yoga class.
Behind The Curtain • Personal Practices Of Teachers
Learn how we as teacher use this practice to navigate through life – and where we struggle.
Feminine energetics in business
Sabrina speaks about how to do business a Yin way.
Deep Rest Through Sound
30 min Sound Bath.
Zen and Yin Yoga
Explore the principles of Zen and meditation to see how this tradition can pair ever so perfectly with your Yin Yoga practice.
Yin Yoga for Life, Death and Happiness
A class that include psycho-education with Yin Yoga to help participants develop skills and enhance their abilities to reach their full potential in certain areas of life. This classes topic is around death and dying.
Yin Practice And The Teachings Of Thich Nhat Hanh.
Exploring the teachings of Zen Buddhust Monk Thich Nhat Hanh.
Mantra Chanting
Either you join and chant with us or you just relax and listen to some beautiful Sanskrit Mantras.
Closing & Sharing Circle • Share your Yin Experiences
TJ, Cedric, Athina, Sally
INTERACTIVE
Sign up now and receive your access link
From last years Summit
Watch this sessions free
Behind Doing • Yin, Pranayama and Meditation
Christina
Class 90 min
Into Balance • Managing Our Female & Male Energies
Elea
Lecture 60 min
Living Yoga: Yoga traditions applied in modern life
Cedric, TJ, Mathew, Cat
PANEL TALK 50 min
Summit Highlight
A Globally Synchronized Hour Of Yin Yoga
Feb 19th, 2022 at 15:00pm GMT+0 London time
that is 10:00 your local time
Be part of a global yin practice
Earth Yin Hour
The heart of the Yinternational Summit is the Earth Yin Hour. This internationally synchronized practice hour of Yin Yoga destressing aims to collectively dissolve accumulated tensions of humanity that we have been passing on to our planet, its ecosystems and all living beings. Join us in this collective healing practice with many studios and practitioners from all over the world. Our planet needs the conscious awareness of its inhabitants more than ever, we dedicate this practice to our planet earth. Be part of this unique experience, it's for free!
Find your zimezone
February 19th, 2022 – unite with the world
07:00am 🇨🇦Vancouver, 🇺🇸Los Angeles;
09:00am 🇲🇽Mexico City;
10:00am 🇺🇸New York, Washinton DC, 🇻🇪Caracas, 🇨🇺Havanna;
11:00am 🇧🇷Rio de Janeiro, 🇧🇷Sao Paulo, 🇦🇷Buenos Aires;
14:00pm 🇮🇸Reykjavik;
15:00pm 🇬🇧London, 🇵🇹Lisbon;
16:00pm 🇩🇪Berlin, 🇧🇪Brussels, 🇨🇿Prague, 🇫🇷Paris, 🇮🇹Rome, 🇿🇦Cape Town, 🇪🇸Barcelona, 🇸🇪Stockhom, 🇪🇬Cairo;
17:00pm 🇬🇷Athens, 🇮🇱Jerusalem, 🇷🇺Moscow, 🇹🇷Istanbul;
18:00pm 🇦🇪Dubai;
19:30pm 🇮🇳 India;
21:00pm 🇮🇩Jakarta, 🇹🇭Bangkok;
22:00pm 🇮🇩Bali, 🇭🇰Hong Kong; 🇲🇾Kuala Lumpur, 🇨🇳Shanghai;
23:00pm 🇯🇵Tokyo;
00:00am Sun 🇦🇺Melbourne;

With this YIN YOGA Summit you learn many different approaches of de-stress, relax, and understanding the healing powers of yin yoga
3-Day guided practice of learning to listen to your emotional, mental and physical needs!
destress & unwind • Immerse in this weekend for a deeper access to your unprocessed emotions and subconsious mind
get grounded and refind your center • getting yourself back to balance is key in the yin yoga practice
deepen your yin practice and knowledge by paricipating in talks and workshops
learn the latest insights from diverse perspectives from teachers around the globe
improove your health and become serene: Yin brings many scientifically proven, positive health effects
broaden your theoretical & practical teaching tools for those who teach Yin Yoga
Sign Up now for free to reserve your spot and receive your access link to ALL LIVE Talks & Classes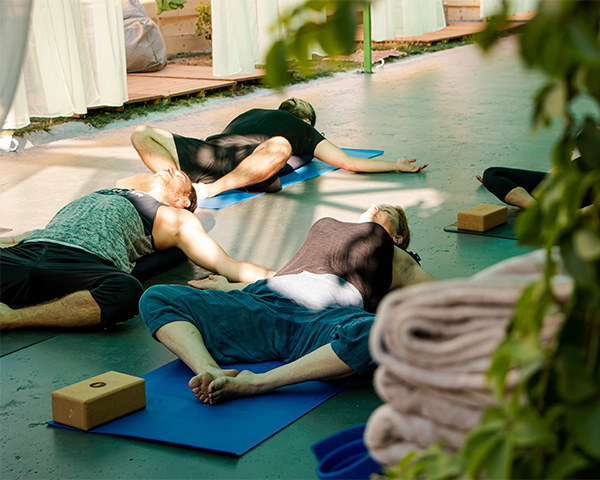 New in Yin Yoga?
Learn everything about yin yoga
This Event is not just for advanced practitioners – you can dive in as a beginner and learn the techniques and practices of Yin Yoga easily. Yin Yoga not only helps you to bring your body into balance and activate your self-healing powers, it also brings your mind to rest.
Why is yin so good for you?
its slows you down, relaxes and quietens the chattering of the mind
it is very easy to learn
de-stress your body and mind
the exercises are not strenuous, but relaxing
you can do it almost anywhere
and the great effects can be felt directly
become patient and calm in your relationships
What is Yin Yoga?
A practice to relax and heal
Yin Yoga is a counterbalance to today's fast and technological world. Most of the time we are in stress mode and our senses are completely overstimulated. Yin helps you get back into your own rhythm by slowing down, relaxing and being a meditative way to regenerate the body. Yin Yoga targets the deep connective tissues, bones, joints, fascia, and ligaments in the body. In Yin Yoga you hold, or rather, lie down into passive postures for a longer period of time, something like 3 to 8 minutes. This stretches your tissues and sets a stimulus that allows the body to bring attention to it and initiate healing mechanisms.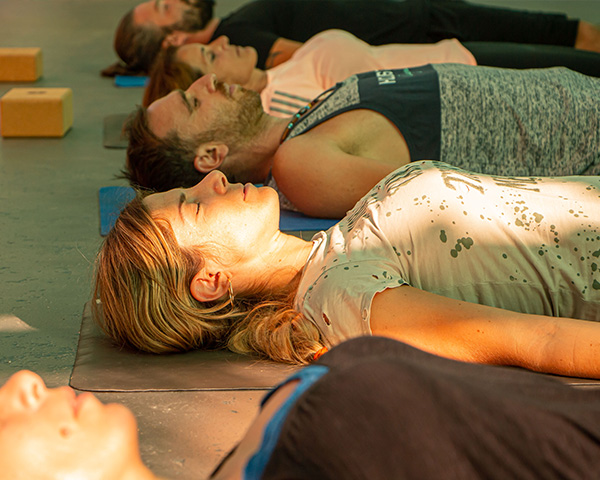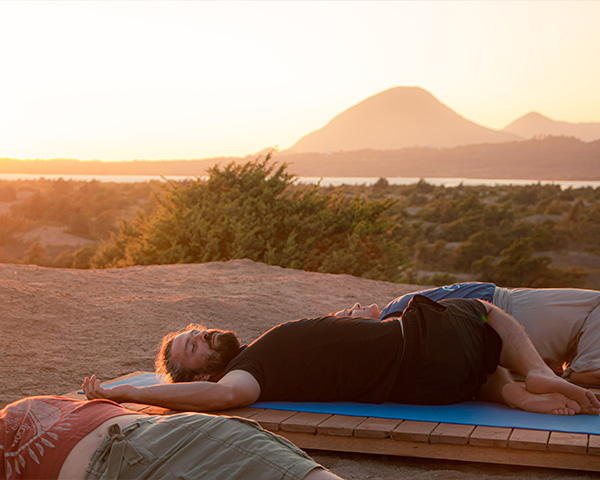 Improve your health!
Yin has many health benefits
As we grow older, our body slowly deteriorates, we lose strength, flexibility and mobility in the joints. With a Yin Yoga practice we can counteract this natural process to maintain long-term health. Yin works with a light, healthy stimulation on muscles, ligaments and joints so that they remain mobile.
Key benefits of a yin practice:
Targets connective tissues including fascia, bones, and joints
Reduces stress
Relieves tension
Balances internal organs and improves flow of prana
Balances our yang or fast-paced physical yoga practice
Boosts your circulation
Improves flexibility
Encourages mindfulness and meditation
Heal body, mind and soul
What do you experience by practicing yin?
Regenerating the body
With the long and deep stretches, yin activates the rest-and-digest mode of your body, that is responsible for healing and regenerating.
Cultivate a calm mind and steady emotions
Yin motivates us to stay calm, to get to know silence as a pleasant companion and to accept whatever comes. Whether emotions, discomfort or an "I just wanna leave here", we are able to take the given moment as it is.
Balance the energetic body
Yin Yoga works on the level of subtle energies based on the ancient knowledge of the nadis (from yoga) and the meridians (from TCM) to energetically balance the body and release blockages.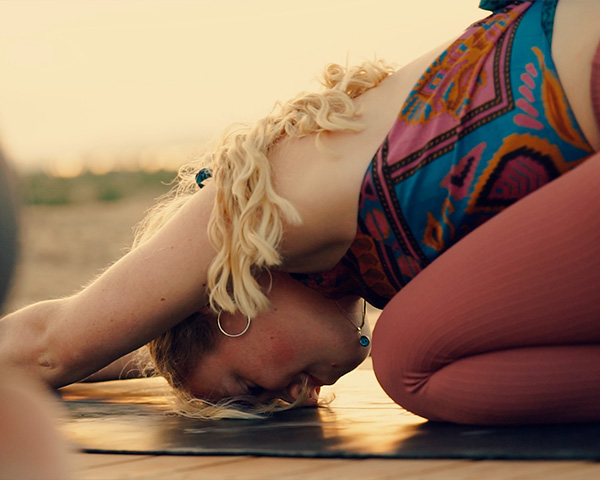 establish inner peace and relationship healing
Become more patient and calm
In Yin you have the time and space to immerse yourself in complete acceptance. This means letting all your emotions, feelings and thoughts come to the surface that you might otherwise unconsciously shove away. According to some traditions, tense body parts hide these pent-up emotions, which can be released through Yin practice.
During a yin class, you allow these feelings to arise without directly identifying with them. You simply observe them. It often takes a lot of energy for your system to maintain such energy blocks, which is why some experience a rush of new energy after a deep yin practice.
Increases your flexibility
The keyword here is fascia. These are stretched in Yin Yoga and this increases your flexibility and releases tension at the same time.
Switch from fight to relaxation mode
In Yin you develop a fine feeling of your own body. This helps you stay healthy and build more awareness. The body is always a mirror of the mental and emotional state. In Yin you switch your nervous system from fight-or-flight to rest-and-digest mode. This has a calming effect, lowering the heart rate and reducing the risk of anxiety and depression.
Who is Yin Yoga for?
Yin Yoga is for everyone. No matter what fitness level you have, whether you are strong enough, flexible, fat or thin. It helps especially with tiredness, fatigue, over-stimulation, mild headaches or tension. The practice is balancing.
learn a Mindfulness practice
Best preparation for meditation
Yin can also be a great starting point for anyone interested in meditation. You can expect slow, deep stretches and guided meditation in a Yin Yoga class that balances and strengthens the body, mind, and soul.
Sign up now and receive your access link