10-12 Feb 2023 • Free Online Summit
20+ Yin experts
1000+ practitioners
from around the globe
Free yin online conference 2023
Join 3 days of live classes and talks from incredible Yin teacher from all over the world!
The YINternational Summit y-invites you to 3 days of live Zoom streams of Yin Yoga practices. Join classes, lectures & workshops throughout the weekend to de-stress, heal and learn – provided online by 20+ distinguished Yin Yoga educators & experts from around the globe. Explore & experience deep release of physical tension, emotions and energetic blockages in various styles & themes of Yin Yoga.
20+ Speakers and Teachers
Learn from and practice with our brilliant & warm hearted internatioal Yin educators
You probably won't find anywhere else an opportunity like this to gain insights from so many Yin Yoga teachers in one place at one time.
Testimonials





3-day program
Over 30+ session, 2 ZOOM live streams
Friday, 10th Feb
Day 01
Time is shown in your local (browser) time
Opening Circle & Event Introduction
[RE]YINtroduction To Yin Yoga
Bring your beginner's mind and relearn the essentials of Yin Yoga or learn them for the first time in this experiential workshop.
A path towards Vishoka Meditation, sorrowless joy
An introduction to the preparatory techniques of Vishoka Meditation®, the sacred practice preserved by the Himalayan Tradition, for a life free from pain and sorrow, infused with joy and tranquility.
Everyday Mindfulness
We'll explore what exactly is mindfulness, debunk some common myths and explore a whole host of fun, accessible and interactive take-home techniques that you can use to ground, de-stress and feel more in touch with the present moment. In the second half Cat guides you through a slow and nourishing Yoga Nidra practice.
The 5 Yogic bodies experienced in Yin Yoga
This workshop is an embodied learning experience. We will discover the 5 yogic bodies from tantric yoga teachings in a Yin Yoga class and explore the effects in the body.
Kirtan, Mantra Chanting
We like to end the first day with a bautiful Mantra Chanting Circle. Mantras are powerful verses in Sansrkit (ancient Indian language) that awake the subtle energies in the body and harmonize the mind. Join in to sing or just listen and meditate.
Sat, 11th Feb
Day 02
Time is shown in your local (browser) time
Yinyasa Movements Class
A class that starts with a gentle slow yin practice and evolves into a dynamic vinyasa flow.
Emotions Healing Through Yin Yoga & Meridians
Inside this one hour workshop, discover the energetic works of yin yoga, how fascia relates to our nervous system, understand the way our body hides trauma, and finally how practicing yin yoga can enhance emotional healing & growth.
Slow Down to Rise Up: Yin, Sound + Journaling
A Yin class to connect to yourself, combined with the healing and nurturing frequencies of sound, this practice allows you to move into deeper levels of your being. This journey is an invitation to explore your inner lanscape with a softened gaze, a time and space to recognize your own magic.
Yin With Chakra Awareness
Come enjoy a full session of Yin Yoga with Chakra awareness mixed in, combining two amazing, deep subtle body experiences.
Yinto The World: Teaching In Different Cultures
How do people relax in ...? Teaching in 3 languages in Germany, Portugal, Cuba, Spain, I found it fascinating what makes people let go. Let's have a tea and share experiences.
Yin From The Wild Cove Collective
Embodying the essence of Yin and using it as a tool to sail ourselves into a harbour of sanctity, healing and deep deep rest. Join Kitty, one of the creators of Wild Cove Collective, a platform for online, on-demand classes to guide you into a cove of rest.
Exploring The Bao May Meridian
The Bao May Meridian for an open Heart & a happy Womb
Mantra Meditation
Immerse in a guided session of Mantra chanting meditation with Waltraud from Bavaria.
The Confrontation of Yin
Exploring confrontation in the body and mind as a way of breaking habits
Panel Talk: What is Yin Yoga?
Indian import? Western invention? Chinese influence? Cultural appropriation? We talk about different perspectives on Yin Yoga today and its future.
ROOM 01 • FREE ACCESS
»EARTH YIN HOUR«
Join the Global Yin Yoga Class
10:00-11:00 your local time
15:00–16:00 UK/London time zone
Design Your Personalized Yin Experience
This is an interactive Q&A session to help you build a sustainable practice.
Magic & Yin Yoga: Rediscover Your Awe Of Life
Explore reconnecting with your child-like wonderment at being alive through discussion of the physical (releasing tension & neurotransmitters) and the metaphysical (Chi & some mental P.O.V. hacks). Bring an open mind or find it on the way ;D
Yin And Sound Healing
Restorative Yin yoga combined with a healing sound bath.
Two yogic principles of contentment
This workshop aims to open a new perspective on how to shift experience to more contentment in daily life. With a little Yin-Style exercise we explore the mind's influence on how we perceive reality and maybe a glimpse on how to rewire the perception.
Yin As A Meditation Practice
In this class we prepare the body and mind with yin poses for a vishoka meditation.
Sun, 12th Feb
Day 03
Time is shown in your local (browser) time
Meditation for Awareness Cultivation
This little meditation guides you towards a clear perception of the ground of our being: awareness.
Embodying Effortless Effort
A 60-minute Yin practice to breathe life into yoga's teachings through personal/ felt experience, followed by 30 minutes of guided contemplation to further reveal how this unique way of being may add richness to your life.
Eating for Calm & Yin Yoga
How food and energetic nutrition affects your mind, body and Qi/Prana. Kimberly will be exploring the ways in which we eat, cook and live that either support or do not support a state of calm and ease, and how to bring more balance to our Yin practice on and off the mat.
Tantric Hatha Yoga Class
No Yin but slow Yang Yoga. In Tantric hatha we apply calm long breathing techniques together with slow movements and meditation to connect deeply within.
How Yin Yoga Helped Me Through The Darkest Time In My Life
Natalie shares an excerpt of her path. Not only yin practice helped her, also teaching yoga (for the future yoga instructors).
Yin Yoga and Metta Meditation
A Yin class with a Metta Meditation (Loving Kindness Meditation).
4 Dimensions of Yin Practice
We will look at the yin practice from four different perspectives of experience: body, mind, energy and awareness. By shifting the focus you learn to explore different aspects of yourself and the way how you perceive life. This workshop includes a full yin practice.
Exploring The Bao May: Open Heart, Happy Womb
In addition with her Talk on Saturday, Elea is now guiding a class to embody the teaching in a yin yoga class.
Community Meet&Greet
Open stream to meet, chat and talk to other participants and exchange experiences.
How To Teach Yin Yoga & Meditation To Children
An overview of the unique ways to adapt Yin Yoga for teaching it to children. Insightful for teachers, parents or anyone who works with kids.
Being with what is, the synthesis of yoga.
A contemplative meditative journey to integrate the present moment as the most fundamental experience where everything is just alright. Inspired by Rupert Spira.
Yin Yoga - A practice for becoming whole again
Carl Jung suggested that the task in life was not to become perfect, but rather to become whole. We will explore how Yin Yoga can help us on our journey to become whole again. This session will include a discussion sharing a self-healing framework and a Yin Yoga class.
Yin Yoga Meets Cuban Music
A mindful Yin Yoga class nourished with Afro-Cuban Spiritual music. Let's find balance with the musical support of Yemaya, goddess of the sea and Eleggua, who knows the 21 ways.
Rewire
A Yin approach to de-conceptualize day-to-day experience in order to build a more healthy self-image.
The Power of Presence
How + why to practice, cultivate, and hone the skill of present moment awareness. Tips, ticks and techniques to create more ease in your day-to-day.
Make Space: Yin Yoga To Expand Your Awareness
Move from the gross to the subtle, from the dense to the light. This yin yoga practice is designed to help you remember that you are infinite, that your consciousness is without boundaries, that your spirit is as vast as the stars in the sky.
Zen and Yin Yoga
Explore the principles of Zen and meditation to see how this tradition can pair ever so perfectly with your Yin Yoga practice.
Yin Yoga with Mantra chanting by Athina
A simple Yin practice with Mantra chants from Athina to open the energy pathways and free stuck emotions.
Panel Talk: Yin Yoga Resources
Reviews and recommendations of Yin Yoga related books, websites, products, articles, etc. all from the teachers' of the Yin Summit.
Closing & Sharing Circle • Share your Yin Experiences
TJ, Cedric, Athina
INTERACTIVE
Sign up now and receive your access link
From last years Summit
Watch this sessions free
Behind Doing • Yin, Pranayama and Meditation
Christina
Class 90 min
Into Balance • Managing Our Female & Male Energies
Elea
Lecture 60 min
Living Yoga: Yoga traditions applied in modern life
Cedric, TJ, Mathew, Cat
PANEL TALK 50 min
Summit Highlight
A Globally Synchronized Hour Of Yin Yoga
Feb 11th, 2023 at 15:00pm GMT+0 London time
that is 10:00 your local time
With this YIN YOGA Summit you learn many different approaches of de-stress, relax, and understanding the healing powers of yin yoga
3-Day guided practice of learning to listen to your emotional, mental and physical needs!
destress & unwind • Immerse in this weekend for a deeper access to your unprocessed emotions and subconsious mind
get grounded and refind your center • getting yourself back to balance is key in the yin yoga practice
deepen your yin practice and knowledge by paricipating in talks and workshops
learn the latest insights from diverse perspectives from teachers around the globe
improove your health and become serene: Yin brings many scientifically proven, positive health effects
broaden your theoretical & practical teaching tools for those who teach Yin Yoga
Sign Up now for free to reserve your spot and receive your access link to ALL LIVE Talks & Classes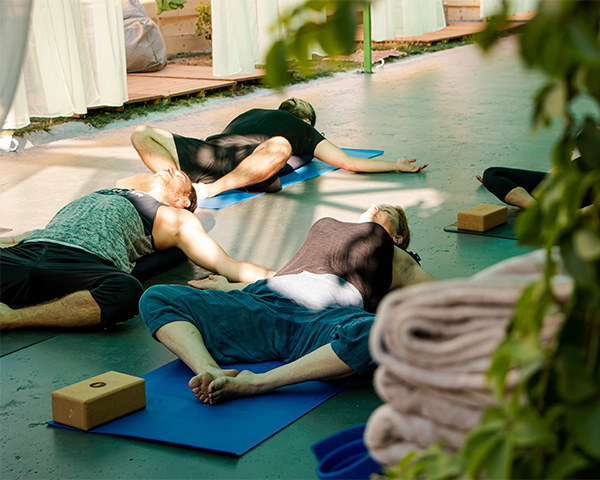 New in Yin Yoga?
Learn everything about yin yoga
This Event is not just for advanced practitioners – you can dive in as a beginner and learn the techniques and practices of Yin Yoga easily. Yin Yoga not only helps you to bring your body into balance and activate your self-healing powers, it also brings your mind to rest.
Why is yin so good for you?
its slows you down, relaxes and quietens the chattering of the mind
it is very easy to learn
de-stress your body and mind
the exercises are not strenuous, but relaxing
you can do it almost anywhere
and the great effects can be felt directly
become patient and calm in your relationships
What is Yin Yoga?
A practice to relax and heal
Yin Yoga is a counterbalance to today's fast and technological world. Most of the time we are in stress mode and our senses are completely overstimulated. Yin helps you get back into your own rhythm by slowing down, relaxing and being a meditative way to regenerate the body. Yin Yoga targets the deep connective tissues, bones, joints, fascia, and ligaments in the body. In Yin Yoga you hold, or rather, lie down into passive postures for a longer period of time, something like 3 to 8 minutes. This stretches your tissues and sets a stimulus that allows the body to bring attention to it and initiate healing mechanisms.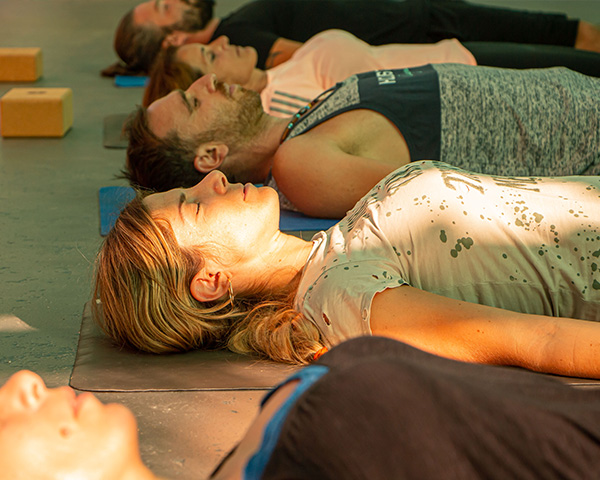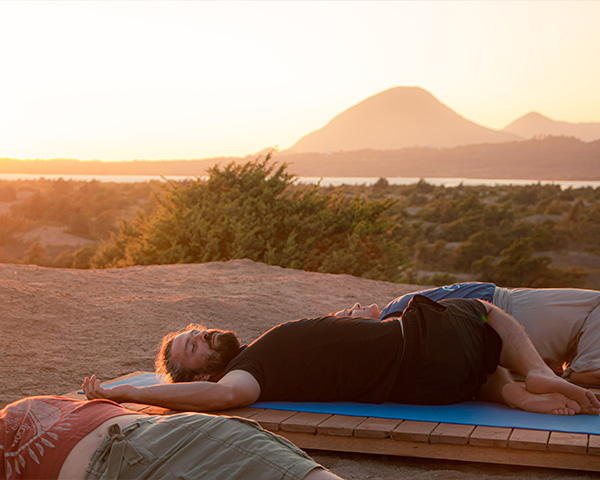 Improve your health!
Yin has many health benefits
As we grow older, our body slowly deteriorates, we lose strength, flexibility and mobility in the joints. With a Yin Yoga practice we can counteract this natural process to maintain long-term health. Yin works with a light, healthy stimulation on muscles, ligaments and joints so that they remain mobile.
Key benefits of a yin practice:
Targets connective tissues including fascia, bones, and joints
Reduces stress
Relieves tension
Balances internal organs and improves flow of prana
Balances our yang or fast-paced physical yoga practice
Boosts your circulation
Improves flexibility
Encourages mindfulness and meditation
Heal body, mind and soul
What do you experience by practicing yin?
Regenerating the body
With the long and deep stretches, yin activates the rest-and-digest mode of your body, that is responsible for healing and regenerating.
Cultivate a calm mind and steady emotions
Yin motivates us to stay calm, to get to know silence as a pleasant companion and to accept whatever comes. Whether emotions, discomfort or an "I just wanna leave here", we are able to take the given moment as it is.
Balance the energetic body
Yin Yoga works on the level of subtle energies based on the ancient knowledge of the nadis (from yoga) and the meridians (from TCM) to energetically balance the body and release blockages.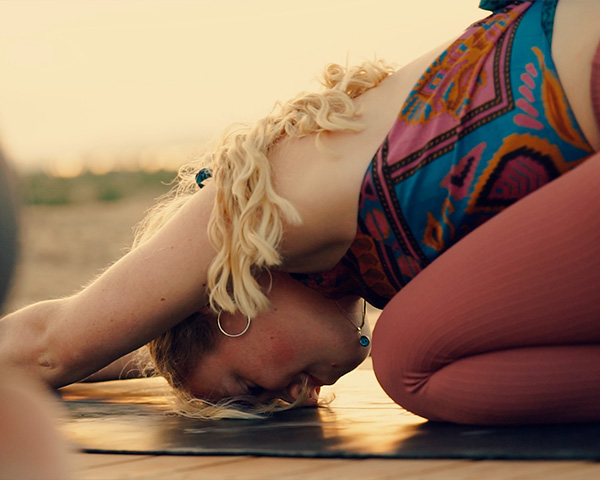 establish inner peace and relationship healing
Become more patient and calm
In Yin you have the time and space to immerse yourself in complete acceptance. This means letting all your emotions, feelings and thoughts come to the surface that you might otherwise unconsciously shove away. According to some traditions, tense body parts hide these pent-up emotions, which can be released through Yin practice.
During a yin class, you allow these feelings to arise without directly identifying with them. You simply observe them. It often takes a lot of energy for your system to maintain such energy blocks, which is why some experience a rush of new energy after a deep yin practice.
Increases your flexibility
The keyword here is fascia. These are stretched in Yin Yoga and this increases your flexibility and releases tension at the same time.
Switch from fight to relaxation mode
In Yin you develop a fine feeling of your own body. This helps you stay healthy and build more awareness. The body is always a mirror of the mental and emotional state. In Yin you switch your nervous system from fight-or-flight to rest-and-digest mode. This has a calming effect, lowering the heart rate and reducing the risk of anxiety and depression.
Who is Yin Yoga for?
Yin Yoga is for everyone. No matter what fitness level you have, whether you are strong enough, flexible, fat or thin. It helps especially with tiredness, fatigue, over-stimulation, mild headaches or tension. The practice is balancing.
learn a Mindfulness practice
Best preparation for meditation
Yin can also be a great starting point for anyone interested in meditation. You can expect slow, deep stretches and guided meditation in a Yin Yoga class that balances and strengthens the body, mind, and soul.