This is why we love yoga retreats
Going to a yoga retreat is quite a thing these days. Suddenly (well not so suddenly, it took centuries), people go on week long trips to focus on themselves, to figure out things, to escape… But there is so much more to a yoga retreat.
Find 10 more reasons to join one for yourself:
1. Slow Down
There is the opportunity to get a moment for yourself, slow down. It sounds like such a given and it's unfortunately not so easy these days. Life often gets in the way, including work, family life, children or parents' needs, basically everyone and everything around you can find a way to district or trigger you. Going away for a few days can not only help you find some time for yourself, to connect with your needs and wishes.., but also give you the space to be more present for when the others that you love actually need you.
2. Biochemical Boost
Your body sometimes need a boost to help itself find balance again. Taking the time to notice, practice and move mindfully can help you produce all the chemicals you need in order to function better before big life events, preparing you mentally and physically for them, but also as an after therapy, in case of big exhaustion or even trauma.
3. Eat Healthy
In a yoga retreat you get the chance to eat healthily, providing your body with all the so needed nutrients and you don't even have to worry about it, plan, or even shop. It's all prepared for you and you don't even have to do the washing afterwards. Triple gain.
4. Tech Free
It's common in yoga retreats for people to take the opportunity and stay away from technology for part or even the whole duration of their stay (without it being mandatory). Depending on the person and their personal commitment to staying present "away from technology" may mean away from phones, emails, social media, even digital alarm clocks, constant notifications and updates. It's a breath of fresh air really. If you have never tried it, do!!! It's magical and in a yoga retreat environment it is so much easier to get "disconnected" from the digital social world and the flow of news that can become completely overwhelming.
5. Meet Like-minded People
Deep, meaningful conversations and a real sense of connection is a reported result in many of our retreats. A week is just long enough to start building heartfelt connections with like minded people. You get to connect in a way that is a little different to work connections and acquaintances, without many of daily life's distractions and many new topics to explore together. These connections can be for a moment, a day, a week, or a lifetime.
6. Ignite Transformation
While you are grounded and listening to what you heart is really longing for, inspiration inevitably comes. Taking time for yourself works in such interesting ways. You may feel like you are not doing a lot but you are doing the best. Time for you is like jumpstarting change and transformation.
7. Re-charge
Your batteries get charged, your mind works better, you body feels refreshed and without even realising you are full of life, full of ideas and feeling like you can achieve anything and everything.
8. Relief Stress
Taking a whole week for yourself shows in your stress levels, that drop significantly enough to have the capacity to decide what you want to take on. To respond instead of react, to listen and then answer, to fully experience each moment as it is, without worries, without stress, without the need to have a specific outcome
9. Deepen your Practice
In a week long yoga retreat you have enough time to deepen your own mediation and yoga practice physically, to understand your mind and body better and cultivate the capacity to trust them and feel empowered
10. learn more about Yoga Philosophy
You also get the opportunity the learn more about yoga philosophy and the ancient wisdom that accompanies the rebirth of it in our modern society. You have the time to study yoga history close to knowledgeable teachers and understand how its evolution through the centuries can give you tools to manage life more effectively.
Final thouths
All in all, you are worth it!
And all of this in a sunny place. You get a reason to find yourself traveling towards the sun and warmer environments both on the touch of your skin but also warm to your heart. Find out more about our Yoga Retreats here in Greece.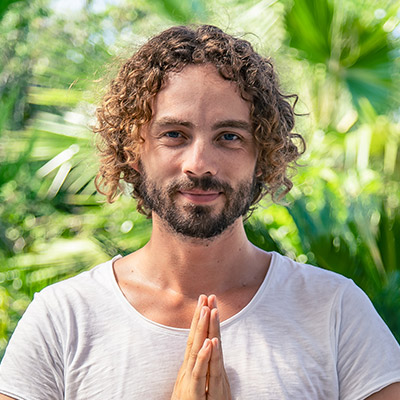 Cedric Stein
Head Teacher INEA • YOGA
My mission is to create a safe space for you to connect to your inner being. By following your breath, being in the present moment and noticing yourself.
Cedric's Profile