5 reasons why I love yoga retreats in Greece so much
...and why the island of Corfu attracts me so magically!
I have been living in Corfu, my favorite island in Greece, for several years now and offer yoga retreats here at Inea Yoga. It is a dream come true. Why do I love this island so much and what makes yoga retreats in Greece so special?

1. The fascinating power of yoga in nature
Practicing yoga surrounded by Corfu's nature is truly magical. The island offers a beautiful landscape that invites you to sink into it. As the greenest island in Greece, Corfu is not only known for it's olive tree forests that remain green all year round, peppered with individual pine trees, but especially the shimmering silver leaves of the olives give a magical feeling to the wandering eye while the trees seem to be singing in a chirpy way, creating that pleasant summer holiday feeling. What makes Corfu the perfect place for inner peace for me, is the mix of mountains, nature, crystal clear sea water and tasty vegetables - in combination with yoga, of course. Floating in the salt water of the sea after an active yoga class just feels like pure healing. That is why a yoga retreat - or more accurately: a yoga holiday - in Greece is one of a kind!

However, nature is not only beautiful to look at, it exudes an inexplicable power and new life energy. Especially when the fireflies enchant the night in spring. Combined with a grounding yoga practice, time for yourself, meditation, sound baths, massage and the inner landing, this Greek island is a place of replenishment on all levels. For the body, in the form of energizing asana classes and healthy food; for the spirit, which is invited to reveal and unfold through meditation and honest sharing with like-minded people; and for the soul, which is nourished and healed through leisure time and nature.
2. Corfu is a spiritual place where the masculine and feminine energy meet
Corfu is a spiritual place of balance. The two earth lines of Athena and Apollo cross here. They represent the male and female energy. Like the nadis (energy paths of the life force) from the yoga philosophy, when they cross in the body they create chakras (energy centers), the opposites of the masculine and feminine energy meet here. This certainly leads to a process for some, but there is a great opportunity to resolve inner imbalance and come into natural balance.

On the other hand, Corfu has incredibly beautiful beaches and bays. From long, wide sandy beaches to white pebble beaches to small hidden bays that can only be reached by boat, it's just fantastic to go exploring. Since I've been living here, I'm constantly discovering new little places that have a character all of their own. The east coast with the calm green-turquoise colored water as well as the sandy beaches and dunes in the west with the nature reserve of Chalikounas Beach (see photo). Where water meets land a charging energy is created. As an island, it is as if the energy flows into the land from all sides and exhilarates everything that lives there. Check our Yoga Retreat dates for 2023 below to find your spot.
3. The natural food
The high quality of fruits and vegetables is delicious, full and tasty. May it be the sun, the special climate or the rich soil, I don't know the reason, but the taste speaks for itself. Most taverns grow their own vegetables, and even fruits like watermelons, figs or grapes are local.
4. The healing effect of the air
Even Princess Sissi (Of Austria) knew why Corfu was the right place for her to cure her respiratory diseases and sporadic depressions. The island of Corfu has high humidity, coupled with the salt water in the sea, it is very healthy for the lungs and respiratory system. Free breathing and pranayama (breathing exercises from yoga) are particularly fruitful. This allows more prana to flow into the body. You can experience this for yourself during one of our Yoga Retreats.
.
5. A yoga retreat is an invitation to go deeper and have the courage to transform
Maybe it is because Corfu is an island, it leads a willing person to introspection. Once you arrive, you are here, stranded. And now, there is time to look inward.

Corfu magically attracts yogis who are ready to go deeper. Yogis who have landed on their own island and want to discover it. Many practitioners, whether beginners or more experienced ones, who come to our Yoga Retreat Center want to explore inner transformation or a new path that they can somehow already sense, but can't quite grasp yet. The sea, the nature, the connection to other like-minded people and the daily practice helps to come back to your inner center, to heal the unprocessed and to explore new perspectives. Many use our yoga retreats or our teacher trainings as a starting point to find the courage and clarity to embark on a new path in their lives.
For any other questions regarding our yoga retreats and trainings, we encourage you to book a video call with us.

Cedric is head teacher of INEA•YOGA a Yoga School in Corfu, Greece. Check us out to find trainings, retreats and online videos.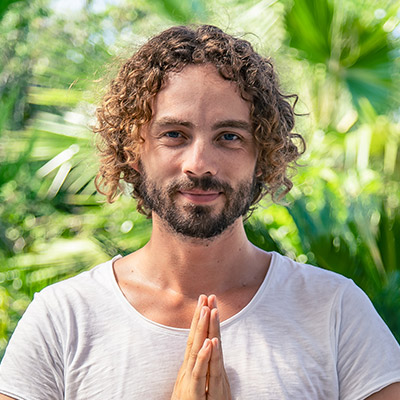 Cedric Stein
Head Teacher INEA • YOGA
My mission is to create a safe space for you to connect to your inner being. By following your breath, being in the present moment and noticing yourself.
Cedric's Profile