Your Yoga trip
Yoga Retreats in Europe
Experiencing a yoga retreat is a terrific opportunity to unwind, conduct some self-discovery, and, of course, advance your yoga practice. However, with hundreds of retreats springing up all over the world, picking which one is best for you might be difficult.
Whether you're just starting out on your yoga journey or have years of expertise, here are some things to ask to ensure you're picking the appropriate retreat for you.
Location
1. Where will the retreat be held?
The location of the yoga retreat is usually an important consideration – although for the actual yoga practice, a stunning view really doesn't matter. But for the time between classes, you may choose a beach resort or a more remote experience situated between mountains or rainforest, depending on your travel preferences. There are many Retreats in Europe to choose from. Pick a good location that inspires you and provides you with a deep sense of serenity. At our centre, Yoga School Corfu in Greece, we have the beach one minute away, and the olive forest 5 minutes by foot.
Yoga Style
2. What kind of yoga will we do?
With so many different types of yoga being done today, make sure you choose a retreat that fits your preferred style – whether that be Hatha, Vinyasa, Restorative, Yin, Nidra, Anusara etc. Often its good to choose a retreat where you have an more active style like vinyasa to strenghthen the body and work out and additionally a more relaxing style like yin yoga, to nourish and relax the body. I recommend to choose a style you already practiced before. What often is more important though, is who is teaching and how does the teaching style look like. Are you more up to slow soft classes or are you striving for someone that guides you into challenging poses? Get to know the teacher in advance – maybe by doing an online class or having a video call with them.
Food & Accommodation
3. What kind of food is provided? How is the accommodation?
Whether or not you have dietary limitations, you'll want to ensure that the retreat has food that you can and want to consume. Is there gluten-free, vegan, or vegetarian food available? Will there be any meat served? Are coffee and tea served? Find out what sorts of restaurants are around in case you wish to eat somewhere else than the resort on some days.
The accommodation should be shown in pictures, so you can make sure, the vibe is right for you. Also be aware, some centres offering many different options of sharing accommodation. If you are looking for your own space, make sure you book a single room.
Group or Solo retreat
4. How many people will be attending the retreat?
It all comes down to personal choice. If you want to meet a lot of new people, being one of twenty visitors may suit you. If you want a more "silent" experience, I recommend retreats with smaller, more personal groups. Or even choose a retreat centre, where you only join the drop in classes at a yoga school.
Offerings
5. What is the Typical Retreat Schedule made up of?
Is the program filled with group experiences and seminars, or does it give you plenty of time to rest and explore at your leisure? I enjoy an agenda that balances the two: time for me to succumb to some self-contemplation and self-inquiry, as well as time to engage with other retreating visitors. Are you looking for only yoga classes or do you want to go deeper and join workshops and lectures? Are there some additional spa treatments offered? Does the retreat host offer group activities to connect with other participants? With those questions you can find out what your preference looks like.
Pricing & Services
6. What is the cost and what is included in the Retreat?
This is vital to know ahead of time so that there are no unpleasant surprises when you arrive. Will someone be waiting for you at the airport when you arrive? Is food included in the price, and if so, how many per day? Is it free to participate in activities outside of the resort, or does each individual have to pay for them separately? Is transportation to and from the location included in the package? If a retreat is too cheap (normally less than 80€ per day), be careful that the accommodation, services and teachers have the right quality.
Who is running it?
7. How much experience does the host have running retreats and teaching yoga?
Personally, I prefer to attend a yoga retreat guided by a teacher who has previously conducted retreats and has a good grasp of how to properly manage them. It is, after all, your vacation. The last thing you need is to be anxious over something that is meant to be enjoyable for you. Make sure you find a bit of information about the retreat host. Maybe even join some online offerings first. A good reference are testimonial videos – listen to what others said about their expeience with the yoga centre.
Contact the host personally
8. How to book?
This is written from a perspective of a retreat host. There are many platforms out there, where you can find hundreds of retreats. And by googleing "yoga retreat" you most likely end up on one of those platforms. Its worth to google a few pages further to also discover the hidden gems. Or to look up the retreat host and visit their own website – because they all pay fees to this major platforms. Be sure to have a personal contact via email, whatsapp, a video call or a massage before you book – so you can feel safe that your choice is right and suits your needs.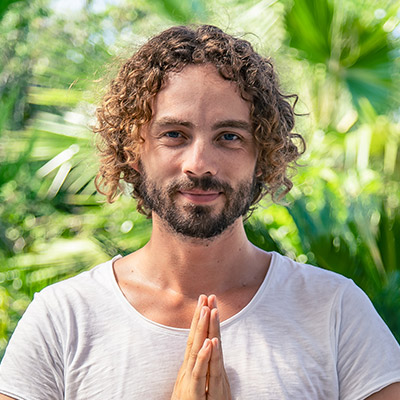 Cedric Stein
Head Teacher INEA • YOGA
My mission is to create a safe space for you to connect to your inner being. By following your breath, being in the present moment and noticing yourself.
Cedric's Profile