A Yogis Life in the Pandemic #07 with Christina Chung from the UK
The pandemic brought Chrissy back home after years of traveling. It showed her what importance family has and how she is now experiencing some old triggers in new ways. For Chrissy it's really about living fully and celebrate life - in good and bad times. Our talk starts at 5:10 min.
A Yogi's Life in the Pandemic #06 with Elena Medina
A Yogi's Life in the Pandemic #05 with Michael Buddeweg from Bali
I am very grateful about this super interesting chat with Michal. We spoke about that we actually don't really know if we know anything for real. We shared our experiences of spiritual awakening, we figured out that there is no future or past (mainly it's our chattering mind) and that we of course never will go back to the old normal in an ever changing world. Michael shares how his life in Bali looks like and what the most important thing in his life is: serving in love.
A Yogi's Life in the Pandemic #04 Eva Panday from Germany
I spoke with Eva about how she felt having the virus and the difficulties of seeing her boyfriend from Israel - and that love is stronger than any obstacle. We chatted about how her meditation expanded into an hour walk every day with the aim to giving at least one smile to another person and she shares about her practice, especially how powerful it is to write dairy of gratitude. Talk starts at 3:30 min.
A Yogi's Life in the Pandemic #03 with Chiara Fileccia from Palermo / Berlin
I spoke with Chiara about how to face fear, why bringing awareness to the own body is so important and seeing the whole Corona madness as a chance for transformation. Talk starts at min 3:30.
A Yogi's Life in the Pandemic #02 with TJ
I spoke with TJ Maher (USA) from YUJMU about how he spend the past 12 months. I loved how he surfed on the wave of corona from England over to Japan and Australia to eventually come home to New York. We dived deep into the topics of death, youtube comments and how to accept those days you don't make it further than the couch.
#01 with Emily Cordes from Canada
I spoke with Emily Cordes from Inhale Rise about her personal experiences of the past year, about resistance, family and that learning is always present. She is just radiating joy and positivity - thank you very much for this sharing 🙏🏻🌞 With this series I want to raise awareness of people's real lives during the pandemic. Instead of getting overwhelmed from politician's speeches, shocking news and death numbers all day long - I am interested in listening to real stories from real people.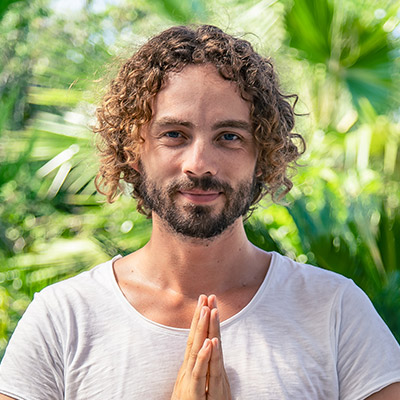 Cedric Stein
Head Teacher INEA • YOGA
My mission is to create a safe space for you to connect to your inner being. By following your breath, being in the present moment and noticing yourself.
Cedric's Profile