This is why I love to go on a yoga trip
There many reasons why to join a yoga vacation
It's hard to put into words the benefits of participating in a retreat. Far from temptations and distractions, a yoga retreat offers the opportunity to connect with your mind, body and spirit and share new experiences and insights with other yogis. Here are some of the many reasons why a retreat can bring about such miracles and growth in your personal, physical, and spiritual evolution.

WHERE CULTURE MEETS PEOPLE
Meet people from around the world
It's not immediately obvious, but yoga retreats are a place to connect. We have already found many things: good friends, new life partners, small adventures or simply nice people with whom you walk a small part of the path. We have yogis from all over the world, with similar values and ideas, but from very different cultures. This can be very exciting and fruitful.
ELEVATE YOUR PRACTICE
Explore your body and never stop learning
In the seclusion of nature, your mind is liberated from the everyday distractions so that you can fully engage in your practice. This allows your practice to develop quickly. On a yoga retreat, you may feel the poses more strongly than ever before, as your mind and body are much better capable of connecting. When this occurs, your yoga can change completely thanks to a serendipitous kind of alchemy. Some compare yoga retreats as quantum shifts for your practice. At the least, you'll notice a vast improvement in your flexibility, well-being, and physical health.
ENJOY NATURE AND SILENCE
Retreats are great for digital detox
When was the last time you didn't use your smartphone for a week? Or for one day? Don't worry, we don't forbid you to use your phone, but we give you the impulse to try it out. Yoga retreats are the best opportunity to get back to yourself and what really matters. You have time to reconnect with yourself and your soul. You will have wonderful experiences and your perception of body and mind will certainly be strengthened.
HEAL AND RECHARGE
Retreats allow you to relax and rejuvenate
We make the experience again and again. Our guests come to our yoga school in Corfu and are first of all very tired. After one or two days, they receive a sudden rush of new, inspiring energy. The island has been known for centuries for its healing effect of the good air and beautiful nature on body and soul. Even princess Sisi came here at that time. What could be better than a place to relax, yoga classes, the sea and gorgeous people around you?
REUNITE WITH YOUR SOUL
There's free time to find yourself
Retreats are designed to give you space to unfold. We give you food for thought in the yoga classes, the workshops and in the engaging and at times profound conversations. Sometimes that can be a lot. But you have time with us, all the time in the world you need. We are here to support you in living a full and abundant life. Or maybe just to chill out.
Start A NEW YOGA ROUTINE
A chance to break bad habits
The best place to get rid of unwanted addictions and bad habits is definitely a yoga and meditation retreat.The structure of the retreat allows you to dedicate time and space to yourself and to indulge yourself. With the yoga classes, you can simultaneously build a new routine that supports you, which you can then continue at home. We know the beginning is the hardest, so take advantage of our community and teachers to help you get there and come home stronger.
For any other questions regarding our retreats and trainings, we encourage you to book a video call with us.

Cedric is head teacher of INEA•YOGA a Yoga School in Corfu, Greece. Check us out to find trainings, retreats and online videos.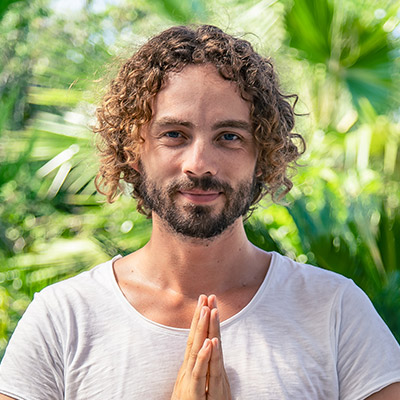 Cedric Stein
Head Teacher INEA • YOGA
My mission is to create a safe space for you to connect to your inner being. By following your breath, being in the present moment and noticing yourself.
Cedric's Profile