Yoga Retreats in Greece
Which yoga trips are the best fit for me?
Once you fall in love with Greece, you will always come back. Some of Europe's best yoga retreats can be found in Greece, also called Ellada. From Relaxation Yoga Retreats to Power Yoga Holidays and everything in between, there is something for everyone. We want to draw your attention to our Yoga Base Corfu. Corfu is one of the most popular islands in Greece because it is so green and multicultural. You can find our yoga school in the south of Corfu.
We are interested in offering the best yoga vacation for you. Therefore, there is no general answer to this question, because it has to be answered as individually as you are. To give you a small overview, we have listed what types of yoga retreat offers are out there:
Slow down and rejuvante
Yoga Retreat to relax and de-stress
The most popular yoga retreat is a mixture of yoga to strengthen the body, but most importantly yoga sessions to get into deep relaxation. To let go of all stress. To take a vacation and fully recharge your battery. Especially guided meditations, as they are done in our retreats, help you to find your inner center again and to come into peace. With us you also have the possibility to use other offers, like a sound bath or massages.
Elevate your practice
Asana focused retreat to improve your yoga practice
You will gain Strength and Flexibility! Retreats with us are designed to get the most out of what you need most. For very stiff people, that's gaining flexibility; for very flexible people, that's gaining strength. Because in yoga, you're working on what you're missing for healthy balance - whether it's in your body, your mind, or your spirit.
You deserved it
Luxury Yoga Retreats
Here you can expect a high standard of accommodation and food. Luxury does not necessarily mean that the yoga teachers are good. So pay attention to the teachers - and if everything fits, there is nothing better than to treat yourself to a luxury vacation with yoga. We offer you a high standard, but especially the highest quality yoga instruction.
Focus on the practice
Affordable Yoga retreats on greek islands
Some people think that yoga on Greek islands can be expensive. This is not true. The infrastructure is well developed and the islands are often easy to reach even by direct flight. On Corfu you can fly directly from Germany, Great Britain, Holland, Netherlands, Switzerland, Austria and many other countries. We also offer affordable 5 day yoga retreats. We are always open to accommodate you if money is the limiting factor. But other islands have great retreat centers as well. Here are some of our favorites: Book yoga resorts in Kefalonia, Lefkada, Evia, Rhodes, Mykonos, Naxos, Andros, Thassos, Hydra, Zakynthos, Astypalea, Syros, Milos, Ios, Kos, Skiathos and yoga retreats in Crete.
Holistic Yoga Holidays
Yoga Alliance certified Yoga Retreats
Holistic yoga retreats are a week yoga retreat or up to 10 days yoga retreat where you engage with yourself and your life. Where do you want to go, who are you and how do you want to be? You work with physical practice, asanas, meditation, contemplation, therapy, healthy food and wellness treatments to get into your balance. We support you with everything yoga and therapy has to offer. Athina is not only a yoga teacher, but also a psychologist. We do not currently offer a Yoga Therapy Retreat, but you can book private sessions with us directly.
Relaxe and restore
Spa & Wellness Retreats
Yoga hotels with pool, Ayurvedic massage and other spa offers are of course an incredibly great experience, especially for a yoga vacation for two, maybe with your partner or a good friend. There are many places in Greece! We also offer special sound baths, sound massages and full body swedish massages.
Continue your education
Yoga Alliance certified Yoga Retreats
Looking for yoga retreats with Alliance Education Points? Many retreats, like us, offer additional workshops and educational content. Find out if you can use the hours for your Yoga Teacher Continues Education.
Watersports and Surfing
Yoga and Surf Retreat
Today surfing and all other watersports are very popular - so it's great to combine these things. Maybe your partner is more the surfer and you the yogi, or the other way around? In Corfu we offer a wide range of excursions, trips, group activities and water sports. Whether it's stand up paddling, kite surfing, jet skiing or a boat tour.
Clam the mind
Meditation Retreats in Greece
The best yoga retreats also offer meditation classes. Because meditation is the foundation of yoga and strengthen the will, calm the mind and heal the body. A good yoga school can be recognized by the fact that meditation is a central point in the offer. We offer daily Meditation classes in our Retreats.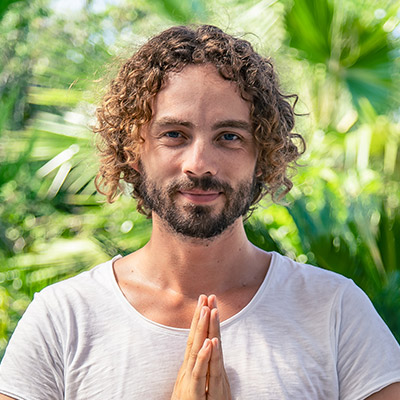 Cedric Stein
Head Teacher INEA • YOGA
My mission is to create a safe space for you to connect to your inner being. By following your breath, being in the present moment and noticing yourself.
Cedric's Profile