Greece has many beautiful islands and places that have their own magic. Since I live on the island of Corfu and this is, in my opinion, one of the best places for yoga, I will describe the months and their characteristics from my perspective in order to help you choose the right time for your yoga vacation. Certainly there are other aspects to consider for yoga retreats on Crete or other islands, but I can't include them all here.
From December to March it is winter here and the yoga schools, retreat centers and hotels are closed. The season starts from April and ends in November – so do direct flights.
Yoga Retreats in April on Corfu
April • Where Life Awakens
Spring in Corfu starts at the end of March, beginning of April. This is a really fascinating time of awakening. The whole island has a fresh green peppered with loud colorful flowers and blossoming trees. If your theme is renewal, spiritual awakening or bringing long cherished dreams to blossom, or perhaps embarking on a new path, then April is right for you. The sun is already in the sky for many hours, it is still cool in the mornings and evenings, but during the day long walks, hikes or excursions can be made without too much heat. Especially the meditations are clear and full of insight. New things are born.
Avarage Corfu Weather in April
Temperature: 16-19°C
Sun Hours: 8
Sea Temperature: 17°C
Rain Days: 10-12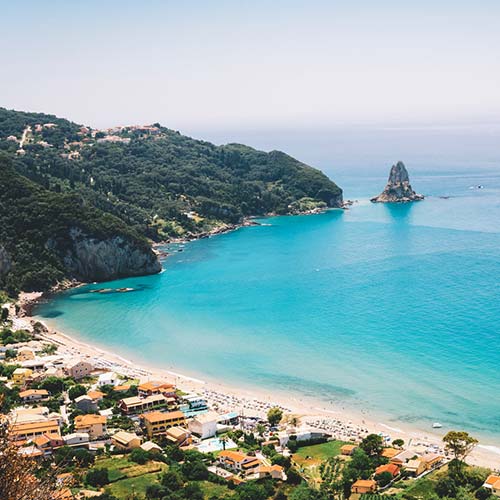 Yoga Retreats May on Corfu
May • Grow strong
May is already wonderfully warm on Corfu. The sea invites the first people to swim, the atmosphere is light and life is flowing. For your yoga practice it is an especially good month to move the winter inertia out of the body and build up new strength. With the Easter Festival, which falls in May, you will find the cultural highlight of the island, everything dances, sings and celebrates life. So you too, awaken, express and experience the beauty and vibrancy within. It already feels like an early summer, supercharging life energy and giving you poses in your yoga flows that you would not have thought possible. The best moment to go beyond yourself in your practice or to use a yoga retreat to establish a new practice.
Avarage Corfu Weather in May
Temperature: 20-23°C
Sun Hours: 10
Sea Temperature: 21°C
Rain Days: 6-8
Yoga Retreats June Corfu
June • Supercharge
Summer has arrived. You can already count the rainy days of the month on one hand, so to speak a sun guarantee. And with the sun comes the joy, the happy hormones and the rise of energy. With a strong yet deep yoga practice, you can let the energy flow through your body and start wonderful, transformative experiences. Your body is warm and flexible and together you can reach unimagined areas, always in balance of flexibility and strength. The water invites you to play, whether stand up paddling, or swimming or going for a boat trip. Or you take lime from the lime cliff on the beach to put on your own whole body lime mask, which is said to have a healing effect. The time in June is dedicated to relaxation, laughter, and being with each other. A quiet meditation practice in the morning grounds you, flow classes strengthen and encourage you, while quiet evening classes clarify your clarity. After a June yoga retreat, you'll know what to do, if it hasn't already fallen into place on its own. June is one of the most popular months in Corfu.
Avarage Corfu Weather in June
Temperature: 25-28°C
Sun Hours: 10
Sea Temperature: 23°C
Rain Days: 3-4
Yoga Retreat July
July • Summer bliss
July is a fantastic month full of lightness, energy and balmy summer nights. Hot sunny days, beach feeling and sweaty yoga classes are the agenda. It is said that prana is absorbed through sunlight, nutritious food, fresh air and space. All of these come together in Corfu in July - the fresh harvest, healing sea air and rich nature, give the soul space for empowering experiences. Yoga paired with mindfulness and pranayama, the yoga classes in our yoga school are the best place to recharge, cultivate life energy and regenerate the body. If you are looking for warmth and summer, want to get color and realize your potential, Corfu is the right place for you in July.
Avarage Corfu Weather in July
Temperature: 28-31°C
Sun Hours: 12
Sea Temperature: 25°C
Rain Days: 0-2
Avarage Corfu Weather in August
Temperature: 28-32°C
Sun Hours: 11
Sea Temperature: 25°C
Rain Days: 0-3
Yoga Retreat September
September • Embrace the Fullness of Life
September is the afterglow of summer, still super warm, even at night T-shirt outdoors is announced, but September can bring a few days of rain. Often, however, these can be counted on one hand. The inner joy, the energetic vibe and the warm sea invite you to experience yourself in fullness - or to go dancing with friends into the night. September is the secret favorite month of many Corfu visitors, as it brings together the best temperatures with the warmest water and the sparkling lightness of summer. For yoga practice, the month is best suited to push your limits and grow beyond yourself. New things are learned quickly, everything is in its power.
Avarage Corfu Weather in Sept
Temperature: 24-28°C
Sun Hours: 9
Sea Temperature: 25°C
Rain Days: 5-8
Yoga Retreat October
October • The Secret Little Summer
Autumn is slowly arriving on Corfu, but the Greek autumn cannot be compared with the Central European one. The locals also call October the little summer, because the sea is the warmest in the whole year and temperatures above 20 degrees are completely normal. The yoga practice is increasingly directed inward, what has been learned can now be perfectly integrated. It feels like a leap in development is taking place, as what has been learned is applied, strength and openness is suddenly recognized and applied. At the same time it can be a great summer time out with sunbathing on the sandy beach.
Avarage Corfu Weather in October
Temperature: 20-24°C
Sun Hours: 7
Sea Temperature: 22°C
Rain Days: 9-11
Yoga Retreat November
November • Hidden Gem
Officially, the season ends in November. Some years, however, November is such a warm and great month that Central Europeans would call it "summer". There is just no guarantee and with some rainy days, you must not let a few drops spoil your mood, it can happen. Nevertheless, this month is suitable for doing yoga, because the focus is on coming to a state of calm. Self-reflection, acceptance and serenity can be practiced now. November gives the power of inner peace, which can come with great joy and freedom. And there are certainly a few days of sunshine, which feels with 18-25 degrees again like a trip to the south. This month is best for whole day activities like hiking or biking.
Avarage Corfu Weather in November
Temperature: 16-20°C
Sun Hours: 4-5
Sea Temperature: 19-20°C
Rain Days: 12-15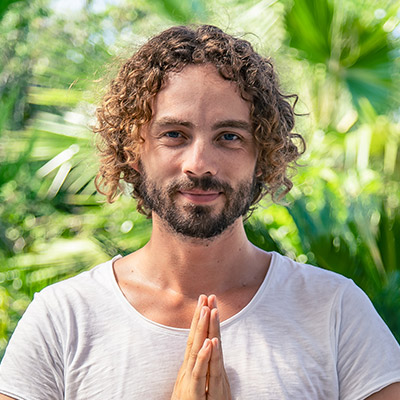 Cedric Stein
Head Teacher INEA • YOGA
My mission is to create a safe space for you to connect to your inner being. By following your breath, being in the present moment and noticing yourself.
Cedric's Profile