This is why we love yoga retreats
Here is your yoga retreat packing list
You have booked a yoga retreat space and your tickets and now you are wondering what to take with you… Oh, we know. Haven't we all got into this last minute hustle? Trust me, I also have and this is simply the reason why I'm writing this :)
Well, let's start with a little reminder that the packing is totally worth the time you will have and a few standard things you will need during a yoga retreat week.
1. Yoga Leggins
Yoga leggings or training trousers. If the weather seems to be more than 25 degrees during the day you may even enjoy having some shorts
2. Yoga Tops
A few different tops that you feel comfortable in. They don't have to be your newest pair, instead some that you really love to wear. Once you arrive you will realise that this isn't much of a fashion show, more of a comfort show I would say
3. For Girls: Sport Bras
If you use sports bras, take more than two so that you can wash and have dry ones still. Often in morning classes, that tend to be more energetic, you will sweat and want to change afterwards
4. An Eye Pillow and other Yoga Equipment
If you have an eye pillow that you use for your savasana (that is the finishing, relaxing posture at the end of classes where you get to lie down) you can bring it, but it's not necessary. Some places, like us, provide you with all props including eye pillows, plankets, yoga mats, bolsters, blocks, belts.
5. Yoga Mat, of course
Yoga mat, even if places do provide you with yoga mats, often the quality is not as good as your own mat. If you own one it is nice to always practice on it. You create a motivational energy that gets amplified every time.
6. Swim Gear
It is always worth bringing beach/pool gear, swimsuit, sunglasses, a hat, even flip flops. We provide you with beach towels. This is depending on the time of year (if you come between December and March you may not use the beach gear much)
7. So called "Meditation Socks"
Oh! Warm socks. It doesn't matter when you join a retreat. A pair of warm, cosy socks almost always feel beautiful in morning meditation or during restorative classes
8. A Clock
If you plan to have a phone free week, bring a watch/clock? So, that the alarm doesn't become a reason for you to look at your phone screen first thing in the morning. It is a little old-fashioned and so worth it. We have some spare but they tend to go quick.
9. Light Cover to feel comfy
Remember to have comfortable clothes for the rest of the day, including comfortable underwear and a shawl over your shoulders. You may use the shawl to go sit on the beach during/shortly after sunset to protect you from mosquitos or even for the meditation, if a blanket is too much for you.
10. Notebook to Journal
A notebook you like to use for journaling and a pen. There is ofter moments dedicated in journaling in many retreat places around the world.
11. Mosquito Repellent
If you are sensitive to mosquito bites, perhaps a spray or long sleeve/trousers will work best.
12. Your Mala or Talisman
If you own a Mala beads necklace, it could be nice to have with you. It is not essential as we also run workshops on how to make your own and have some for you to purchase if you find them to be a useful tool for your Mala japa or manta meditation.
For any other questions regarding our retreats and trainings, we encourage you to book a video call with us
With love and all the caring vibes Athina @IneaYoga
Find out more about our Yoga Retreats here in Greece.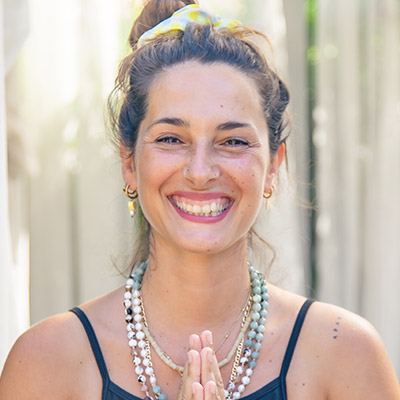 Athina Tamaresi
Head Teacher INEA • YOGA
Yoga to me has been a wonderful journey, helping me divide my sense of self from my often busy mind and deeply, truly accept and connect with me as a whole. I teach to support and encourage people to connect with themselves.
Athina's Profile